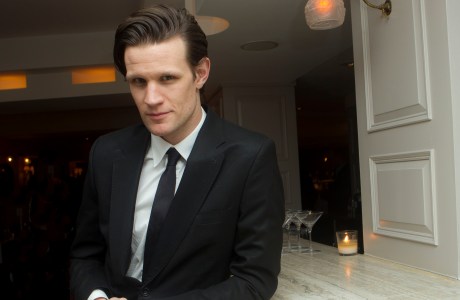 It must be so wonderful to be Matt Smith sometimes. Not least because you're the Doctor and there's all the fun stuff that comes with that, but he's at the stage in his career where he can audition for movie roles in the most fun way you could possibly imagine. And he'll almost definitely have made a really decent fist of the auditon too. 
For example, when approached by Ryan Gosling about appearing in his directorial debut How To Catch A Monster – which stars Christina Hendricks as a single mum following the trail of her missing child, to an underwater community –  instead of reading out lines in some draughty municipal building, Matt did a four-hour larkabout with Ryan, mucking about with smartphones and generally having a wonderful time.
AND he got the job!
He told Total Film: "I was in New York and I was about to fly back, and then I got a phone call saying Ryan wanted to meet me and come over. So I read his film and I thought it was brilliant.
"And then I auditioned and we spent about four hours together doing some stuff, and he filmed it on his iPhone. And that was it. And now I'm going off to shoot it in a couple of weeks.
"I'm really excited. I think he's really clever, and I think it's going to be an exciting project."
They then went on to ask Matt if there'd been anything particular he had had to do to prepare for the role, and he replied, "Yeah. I'm doing lots of research around different people and stuff. But, again, I won't go into too much. I'm sure this is all fine to talk about. When I know I can, I will.
"But I'm reading a couple of books. I'm watching a couple of documentaries by a particularly famous documentary-maker everyone knows and has seen one of his documentaries. And obviously just trying to get the acting right. But at the moment, I'm shooting Who. Sort of juggling both balls, as it were."
Hands up who did an internal "aww" at "trying to get the acting right" just then?
Read More
Filed Under: