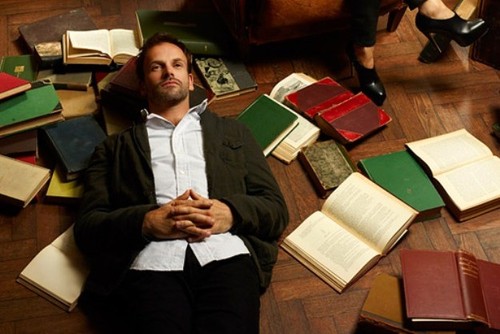 Alright, all you Cumberbitches (we say that affectionately) cover your ears … as we're about to start talking about the "other" Sherlock, Johnny Lee Miller. Miller, along with L.A. Times staff writer Glenn Whipp, will be hosting a live video chat to discuss Miller's work as Sherlock Holmes in Elementary on Thursday, May 29 at 3:30PM/12:30 Pacific.
We jest about their being any friction between Benedict Cumberbatch and Jonny Lee Miller. The two are obviously chums having performed together, even sharing roles, in Danny Boyle's Frankenstein. And, now, they're both performing the character Sherlock Holmes in their own respective shows.
Miller said Cumberbatch has been "very supportive" saying, "He sent me some messages when he'd first seen the show, and it was really, really nice. I'm pretty sure he wouldn't have sent me a text message saying, 'You suck!' He's been very supportive, the whole way."
Miller's Holmes lives in modern NYC, after a stint in rehab, and his sidekick Watson (Lucy Liu) is a live-in babysitter of sorts to keep Holmes sober. Oh, bless him.
The video chat will dig a little deeper into his character. In the meantime, you can prep for the video chat with this post on 10 Jonny Lee Miller Roles You Should Know.
You can submit your questions when the live chat begins, here. For more on the video chat, follow Glenn Whipp, on Twitter.
Do you have a question in mind?
Read More
Filed Under: