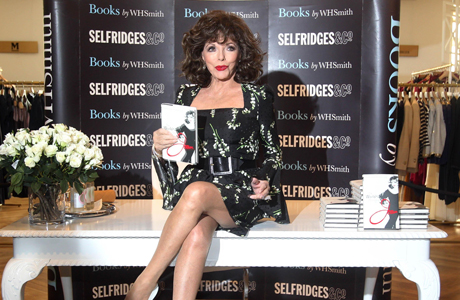 Happy Birthday, Joan Collins!  The London-born actress turns 80 today (May 23).
Collins first became known as an actress and pin-up girl in England in the early 1950s. She made the move to Hollywood in 1955, when 20th Century Fox signed her as a rival to MGM's Elizabeth Taylor. She scored her biggest success, however, on the TV screen, when she was cast in 1981 as conniving Alexis Carrington on the American prime-time soap Dynasty, which she helped turn into a ratings juggernaut. Fans of the show remember fondly the many campy catfight scenes in which Collins was called upon to slug it out during her eight years on the show, including this brawl opposite costar Diahann Carroll:
In honor of Collins' big birthday, here are five fun facts about the star:
Number of times she has been married: Five. Her husbands include (in order), Irish actor Maxwell Reed; English actor-singer-composerAnthony Newley; American music executive Ron Kass; Swedish singer Peter Holm; and Peruvian-born stage manager Percy Gibson (to whom she is still wed).
Number of movies based on her sister Jackie Collins' novels in which Joan has starred: Two. That would be The Stud (1978) and The Bitch (1979).
Number of novels that she herself has written: Five. The titles include Prime Time, Love & Desire & Hate, Infamous, Star Quality and Misfortune's Daughter.
Number of memoirs she has written: Four. The titles are Past Imperfect: An Autobiography; Katy: A Fight for Life (about helping her daughter recover from a near fatal auto accident); Second Act: An Autobiography; and A Passion for Life: An Autobiography.
Number of memorable Cinzano commercials in which she appeared: Ten. The classic ads, which co-starred British character Leonard Rossiter, ran in the late 1970s and early '80s in the U.K. The 30-second spots always featured Collins getting a drink spilled down her chest. Take a look:
And, just for fun, let's use the excuse of Collins' birthday to trot out a favorite sketch with Dawn French and Jennifer Saunders, called "Lucky Bitches," in which the comic duo offer a satiric take on the lives of Jackie and Joan Collins:
What would you say to Joan Collins if you were wishing her a happy birthday?  
Read More
Filed Under: