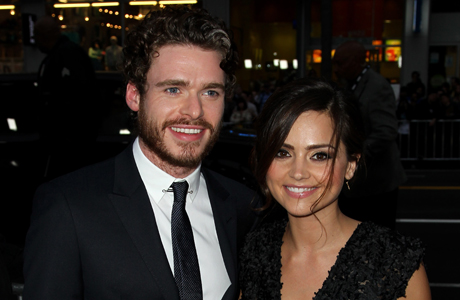 Richard Madden, Game of Thrones' Robb Stark, might be best known to Whovians as Doctor Who star Jenna-Louise Coleman's real-life love interest. Now, the British actor is set to romance big screen audiences as Prince Charming in an upcoming adaptation of Cinderella, reveals The Hollywood Reporter.
This live-action, big-screen adaptation has some weighty credentials: Kenneth Branagh will direct the picture, with Lily James (Downton Abbey's Lady Rose) as the downtrodden, glass-slippered heroine and Oscar winner Cate Blanchett playing the wicked stepmother.
If anything, we're excited that this means more red carpet moments for sci-fi/fantasy's reigning royal couple:
Too much pretty.
Excited to see Richard Madden take on this huge leading-man part? Tell us below:
Read More
Filed Under: