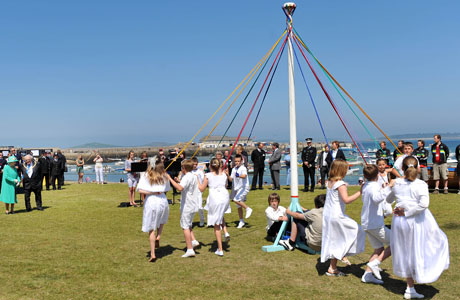 The first of May is a date that has had many different connotations and celebrations down through the years, dating back to Roman times and probably (given that the calendar will have been different at the time) beyond. There's stuff about fertility, stuff about work, stuff about farming and stuff about death. It's to do with sap rising and the rebirth of the land, and a great excuse for a get-together and a jolly-up. As a result, has always been held dear as a special day in rural communities and among associations of workers.
So, here are five traditions that will definitely have been observed somewhere in Britain today (or possibly on Monday, which is the public holiday).
1: Crown a May Queen
This is a bit like being a prom queen. You pick a pretty girl, dress her in white (to symbolise purity) and give her a crown. Her job is to give everyone permission to enjoy themselves, and she does this by making a brief speech.
However, back in the history of things, there's a suggestion that the May Queen was actually a sacrificial offering, presumably to ensure the seeds that had only just finished being planted –  one of the biggest reasons for a day off on May 1 – would grow strong. It's a Wicker Man sort of a thing.
There is also a suggestion that this idea is just the invention of scaremongering Christians, seeking to wean people off their pagan rituals. But of course, that slight unease is part of the fun.
2: Dance a Morris
Morris dancing is the communal entertainment people watched and took part in during the centuries before there were movies. It's a story-telling dance, a people's treat, and it's bawdy and rude and redolent of secret wisdom. May Day is a big day in the Morris calender, as it's the official start of their season, with dancers congregating in Whitstable and Rochester, Kent, to process through the town, and in Hastings, East Sussex.
Here's a fairly self-explanatory clip:
3: Dance around a maypole
The May Queen starts the celebrations off, and then there's a dance around a maypole, which celebrates the spring, the youth of the year, and the youth of the people doing the dancing. It's a highly suggestive ritual too. I am sure you can work out how. Also, as the communal celebration is because everyone will have been working hard to plant seeds, May 1 is the Feast of St Joseph the Worker, the patron saint of workers. So on his day, you celebrate by not working, as hard as you possibly can.
Since the industrial revolution, the move away from agrarian industry has seen May Day become a more hotly-contested holiday, especially from people who own industries. Maypole dancing is not for them.
4: Gather at dawn and listen to a madrigal
There are two parallel traditions for May Day that involve waking up early and listening to medieval pop songs. At Oxford University, people congregate under the Great Tower of Magdalen College at 6am, after a riotous night celebrating. There they will find the college choir, singing madrigals.
Half an hour earlier, up North in Durham University, students meet on the Prebend's Bridge at sunrise, and that's when they start celebrating, with dancing, food, and more madrigals. Because madrigals are LOVELY, that's why.
5: Avoid Capture By The Oss
In Padstow, on the North coast of Cornwall, there's an annual day of festivities called Obby-Oss – a yokelisation of hobby horse – which is a very formalised affair. The whole town is given a spruce-up, with flags and flowers and leaves, and there's a maypole put up. At midnight, people – who are similarly gussied-up in white, with red or blue sashes or kerchiefs – begin singing, starting at the Golden Lion Inn.
There's a night song, and a day song, both of which are quite similar in structure ("in the merry morning of May" features heavily), and there's a drum and accordion parade through the town in which two Osses – the Old Oss and the Blue Ribbon Oss – try to catch young girls. They meet at the maypole, do a dance, chase some more girls and then go back to their "stables" on opposite ends of town.
It's all very suggestive, and then (presumably by Cornish pagan magic) the following January, loads and loads of babies are born.
Here's some footage of the 1932 Obby-Oss:
Will you be doing anything special for May Day? Tell us here:
Read More
Filed Under: