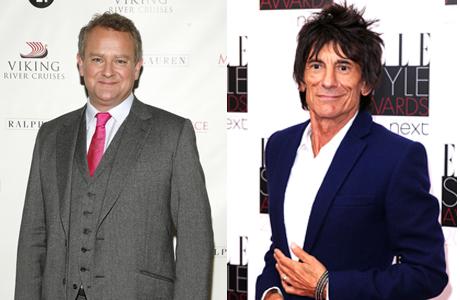 Downton Abbey may be off the air until the start of Season 4 but that doesn't mean there's no news of the show or its stars. (Season 4 will begin showing in the U.K. in September and in the U.S. on January 5.)
If Downton head producer Gareth Neame has his way, the hit show may last for many seasons to come. He told the New York Daily News he thinks Downton might have six years of viable story left in it after Season 4, bringing its total tenure to ten seasons. But he's wary of the period drama overstaying its welcome. "I would rather that we picked the right year [to end] and that in 20 years time the show was loved rather than we went on a season too long and people fell out of love with it," he said while in Los Angeles over last weekend for Santa Monica's BritWeek promotional celebration.
In town for the same event, actress Laura Carmicheal, who plays hapless Lady Edith Crawley on the show, was asked which actor she would like to see portray a new love interest for heartbreak-prone Edith. "Ryan Gosling," she suggested. "I think he would be brilliant in Downton, and it would be a waste if it doesn't happen."
In other Downton news:
When worlds collide: The Rolling Stones are fans of Downton Abbey. Carmichael told The Sun that costar Hugh Bonneville, who plays Lord Robert Crawley, had recently befriended Rolling Stones band member Ron Wood at a charity event. Wood told the actor that the Stones called an early end to Sunday night rehearsals for their current tour so that they could catch the show. Apparently, Mick Jagger was responsible for a spoiler. "When Sybil passed away, Mick said to Ronnie, 'Sad to hear about the girl.' Ronnie replied, 'I haven't seen it yet — I recorded it.'" reported Carmichael.
When worlds collide, part 2: If you already saw Iron Man 3, then you know this. If you haven't, spoiler ahead. Downton Abbey gets a shoutout in the comic book blockbuster. When Happy (Jon Favreau) is hospitalized and in a coma, his former boss Tony Stark (Robert Downey Jr.) asks the medical staff to play Downton Abbey on TV for the unconscious Happy, saying, "It's his favorite show." Entertainment Weekly quotes Downton producer Neame as saying that he was approached by the movie's makers for permission to use the show's name. "We looked at the context and thought, 'That's good.'  We'll do it," he said.
Costume fit for a Lady: Michelle Dockery, who plays Lady Mary Crawley, walked the red carpet earlier this week alongside other stars and the fashion crowd at this year's Costume Institute Gala at the Metropolitan Museum of Art in New York.  The latest costume exhibition at the museum celebrates the punk era but Dockery came decked out in a decorous, python leather shift by Burberry and a cropped leather jacket. Nothing punk about this getup: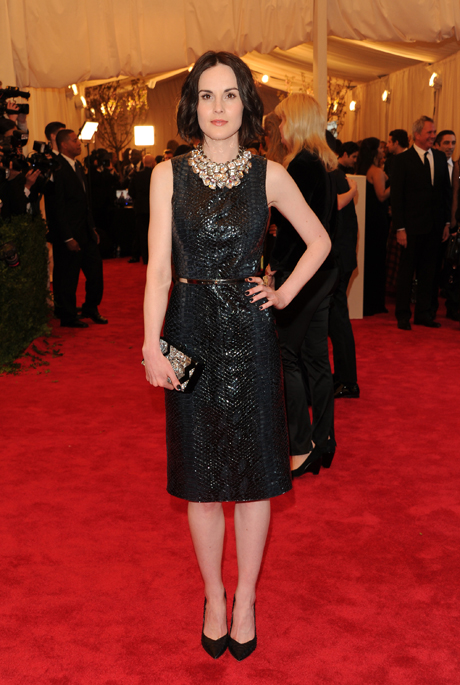 She'll always have Paris: Dame Maggie Smith, whose Dowager Countess is easily the most popular character on Downton, has signed to shoot a new movie in Paris beginning in September, according to The Hollywood Reporter. It's called My Old Lady and is based on a play by Israel Horovitz, who is also directing the film version. Smith will play a woman living in a large, valuable Paris apartment belonging to her recently dead lover. Her tenancy and the relationship comes a surprise to the man's long estranged, New York-based son (Kevin Kline), who arrives in the City of Lights intending to sell the place.
Daisy, Daisy, give us your answer, do: Sophie McShera, who plays kitchen assistant Daisy Mason in the series, has been out and about in the UK promoting The Job Lot, her new comedy series on ITV. In a recent appearance on the network's Morning Show, she was asked whether Daisy will finally find romance during Downton's fourth season. McShera warned fans not to be too hopeful. She let spill that Daisy will continue to have a crush on footman Alfred Nugent (Matt Milne) but said, "She can't get him to look at her." Here's the whole interview:
Are you counting the months until Season 4 of Downton Abbey starts?
Read More
Filed Under: