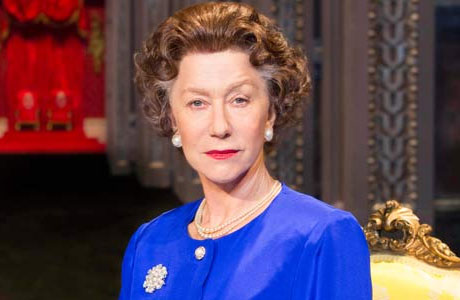 See this picture here? Imagine if that immaculate visage was bearing down upon you, with a look of pure venom. You'd do exactly what you were told, wouldn't you?
That's the situation faced by samba drummers at the As One In The Park LGBT parade and festival in London's Victoria Park over the weekend. As is fairly common with performers of their ilk, they had paraded around a bit, dispensing relentless rhythm on their travels, before settling down near Shaftesbury Avenue to have a good old bang and thwack.
Suddenly, from the stage door of a nearby theater, a woman who looks a lot like the Queen comes steaming towards them with a face like thunder. And then the swearing starts.
It turns out the drumming could be heard quite clearly throughout the theater as she gave her performance (the same one that recently won her an Olivier award) as Her Majesty in The Audience, making the quiet, emotional bits quite hard to enjoy. And as nothing irks a performer quite like another performer upstaging them, this was enough to provoke a confrontation.
Mark McKenzie, who organized the parade, told the Telegraph: "Not much shocks you on the gay scene. But seeing Helen Mirren dressed as the Queen cussing and swearing and making you stop your parade – that's a new one."
Dame Helen, having calmed down, explained further:  "I'm afraid there were a few 'thespian' words used. They got a very stern royal ticking off but I have to say they were very sweet and they stopped immediately.
"I felt rotten but on the other hand they were destroying our performance so something had to be done.
"The drumming just slowly got louder and louder and then settled right outside the stage door. There was just a thin wall between drumming and the theatre so it was unbelievably loud on stage. Paul Ritter [co-star] and I could hardly hear each other speak and the audience couldn't hear us speak at all.
"We were doing this last scene of the first act where the Queen is being told she is going to lose [royal yacht] Britannia, it's quite an emotional scene. I thought, we can't carry on like this, they have to stop.
"I was so upset from struggling through the scene with Paul that I literally walked straight off stage, straight up the stairs and straight out the stage door and banged my way through the crowd who were watching and said 'stop, you've got to stop right now' only I might have used stronger language than that.
"They were very sweet and stopped the minute they knew I wasn't just a batty old woman haranguing them on the streets of Soho on a Saturday night."
Brilliantly (if you're of a puckish bent), the second half was then interrupted by a power cut, prompting Dame Helen to start shouting at the fusebox.
Only joking, she merely turned to the audience and said "We seem to be having a bit of a bad night."
Regally, of course.
Read More
Filed Under: