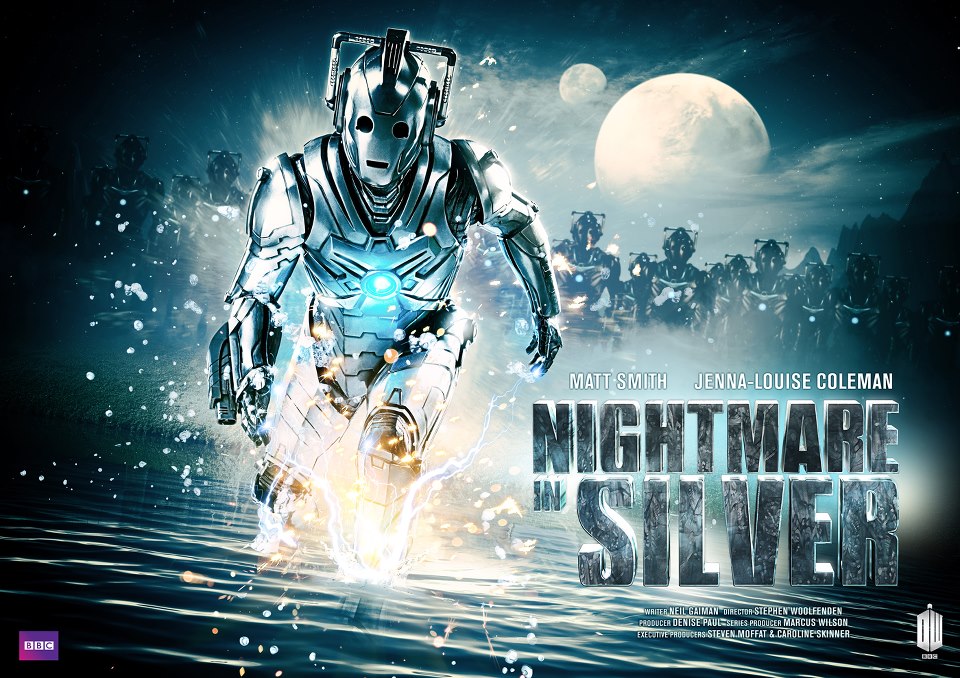 It's been a long wait, but now the second Neil Gaiman-written Doctor Who story will soon be upon us. "Nightmare In Silver" is on BBC AMERICA this Saturday at 8/7c, but before we can dig out the polish and rags, ready to buff up the silvery headphones, can we take a moment to salute the full gooey menace of "The Crimson Horror?"
Here's the behind-the-scenes report:
Here's our recap, and here's our tribute to British acting families – like Dame Diana Rigg and Rachael Stirling – that are not called Redgrave.
Dame Diana was interviewed in the Independent about working with her daughter for the first time, and admitted "Rachie and I had great difficulty keeping a straight face in some scenes. Hopefully we're believable."
Here's the trailer for "Nightmare In Silver."
And here is another one:
And here is Neil Gaiman's summary of the story, so you can get good and ready. Gaiman will also be chatting about "Nightmare in Silver" on Wednesday night/Thursday morning's episode of Last Call with Carson Daly.
And you might like to know that after this week's episode, there will be a prequel released called "He Said, She Said." It sets up the story for the series finale — "The Name of the Doctor" – and will show Clara and the Doctor expressing how little they truly know of each other, to camera.
Time to have a look at what else has been going on in space and time this week:
• Congratulations to Mr. David Tennant on his very first EMMY nomination! And it's for a role in another space-bound sci-fi franchise, but for this one, he didn't have to even show his face. (Pity.)
• Would Lara Pulver — Irene Adler from Sherlock — be at all interested if Steven Moffat rang her and offered her the part of the Doctor? Apparently so.
• Russell Tovey, on the other hand, not so much, as he told the Independent: "It would have terrified me."
Best known as George the werewolf from the original British Being Human, Tovey has appeared on Doctor Who twice before, as Alonso. First, in "Voyage of the Damned," he sparked one of the great moments of the Tenth Doctor's tenure.
And then he featured prominently in one of Captain Jack's best pick-up scenes, in "The End of Time":
• The most heart-warming Who story of the week has to be that of the consortium who bought 14,000 Doctor Who novelizations, just to give them away to schools.
• WhatCulture have pulled together a list of ten Doctor Who stories that they believe are underrated. Point your argument face in their direction.
• Commander Strax has to be the single most entertaining Sontaran in Whostory, right? Here's a clip of him attending a Q&A in Cardiff, in which all the questions have been set by children:
• Steven Moffat takes the time to explain how come the Statue of Liberty made it across New York without being spotted, in "The Angels Take Manhattan."
• Matt Smith's audition for Ryan Gosling sounds like a lot of fun.
And finally, should you ever find yourself thirsty near Caffe di Angeli in Fort Worth, Texas. Ask them for a Whovian cappuccino. (via Coffee-Katie)
TTFN!
Read More
Filed Under: