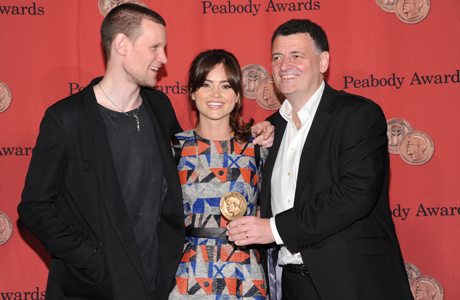 Steven Moffat, Jenna Coleman, and a freshly shorn Matt Smith were in New York last night (May 20) to accept one of the highest honors in media, the Peabody award. Doctor Who picked up a special Institutional Peabody award for its longevity and "evolving with technology and the times like nothing else in the known television universe." Matt was seen sporting a shaved head for his latest film role in Ryan Gosling's directorial debut How to Catch a Monster, which also stars Christina Hendricks, Eva Mendes, Saoirse Ronan, and Ben Mendelsohn.
• Also, look who tweeted a photo with Matt from last night's event! Perhaps Judd Apatow will cast him in a Time Lord-inspired Knocked Up sequel, This is 1000:
Dr. Who ! pic.twitter.com/Fue48XQ6kZ

— Judd Apatow (@JuddApatow) May 20, 2013
• Announced over the weekend, that Season Eight has been properly officially commissioned. Which means we have the 50th Anniversary show to look forward to in November (plus Mark Gatiss's Who biopic An Adventure In Space And Time) then the Christmas special, and then a new series of untold wonders and delights, at some point in the not-too-distant future.
And this comes just as we're all reeling from the astonishing goings on during "The Name of the Doctor." Here's our episode recap, so you're up to speed, and then go back to the beginning.
First there was "He Said, She Said," the prequel clip summing up Clara and the Doctor's feelings of admiration and disquiet towards one another:
Then, we had these reports from Strax. Here's one:
And another:
And finally, the proper behind-the-scenes report:
Oh and if you were at all confused by who all those men in funny coats were in the Doctor's time stream, might we direct you to the Doctor Who official site's beginner's guide to the Doctors?
Now, what else is going on in space and time this week?
• Ah yes! Matt Smith and David Tennant, chatting from the set of the 50th Anniversary shoot:
• Steven Moffat himself gave us some backstage gossip from rehearsals:
• MTV Geek spent some time in Murray Gold's NYC studio to chat with the composer about his work on Doctor Who. And he gives a live demo of "Mercy" from "A Town Called Mercy" (accompanied by singer Halia Meguid).
• Neil Gaiman revealed how the character of Clara evolved from Victorian barmaid to the person we now know she is.
• Y'know those wonderful movie-style posters for each episode in Season Seven? We spoke to Lee Binding — the man who designed them — about his work.
• The children's comic The Beano put out their own special Doctor Who edition, to celebrate their own 75th anniversary, and because the Doctor is a fan.
• Here's a charming DIY video — how to create your own miniature TARDIS out of polymer clay:
• Natalie Barnes, editor of Doctor Who Adventures, tells Radio Times that it should definitely continue being a scary show.
• Let's end with a musical restatement of core principles, shall we? Here's a beautifully compiled and edited romp through all the Doctor Who opening credits, from the very first episode, to the present day.
There will be goosebumps!
TTFN!
Read More
Filed Under: