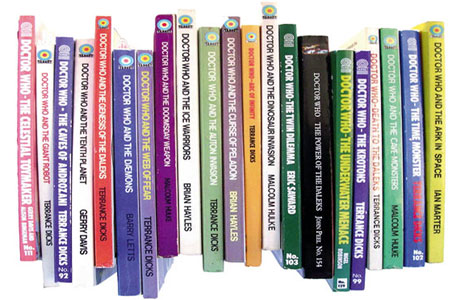 Whovians, this is an example of the kind of people you can call your global community. Be very proud!
When David Dovey came across a post on eBay proffering some 11,000 mint condition Doctor Who novelisations in a massive job lot, he immediately considered what his next best step would be. The books had been put in a skip, and only discovered when the Essex firm that had hired it out came to dispose of its contents. There were about 800 copies apiece across some 36 titles, with stories that span the First Doctor's time to the Seventh.
They decided there might be some value in selling them on – plus it seemed wasteful to pulp them – and that's where David entered the picture.
But David isn't just a Doctor Who collector. He remembered that the Doctor Who novelisations had been a huge part of him learning to enjoy reading when he was a child. And he wanted to offer the same gift to young Whovians all over the country. Trouble is, he's not the kind of man that can afford to spend big money on 11,000 books. So, while talking to a few friends on the internet, a plan was hatched. They would club together and buy the books, and then donate them, in batches of six or so, to schools.
In the end, the auction finished at just £656 (around $1015), and the friends made a website and invited schools to get in touch if they wanted some of the books.
David explained to This Is Gloucestershire: "Doctor Who changed my life. Before that, reading was boring. Having worked in schools I thought it would be amazing to get the books and hand them out to schools to inspire other youngsters. I never thought we'd actually be able to do it.
"It is, after all, the 50th anniversary for Doctor Who and I thought the books would be incredibly popular."
And as the word is spreading, his hunch appears to be correct. Already some 300 schools have signed up, and 1,400 of the books have been sent out. Through various donations their original haul has increased to 14,000, and this is just the beginning. The consortium hope to encourage all Doctor Who fans to donate one book to their nearest school, whether it's part of their collection or one that has been specially purchased.
For more information, to offer support or even just to read what they have to say on their project, visit the Target Who website.
As they themselves put it: "For us it is our way of celebrating the show's 50th Anniversary. As the classic and new series come together this year, we as the childhood fans of yesteryear want to share with the current and next generation of fans the books that inspired and encouraged us to read.
"We hope they will sit in school libraries for many years to come, constantly being discovered and enjoyed by children."
And who could argue with that?
Read More
Filed Under: