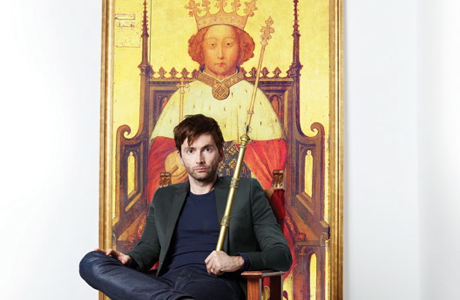 If you weren't able to snap up tickets to see David Tennant play Richard II in the upcoming sold-out Royal Shakespeare Company production, you may not need to self-flagellate too much: on November 13, the RSC will stream the play live to cinemas around the globe, Radio Times reports.
Screening attendees will see series of short films and live footage from before the show and during intermission. Two days later, select U.K. schools will also be able to watch a recording of the stream and participate in a live online Q&A with Tennant and other members of the creative team. Richard II is the first of three RSC productions to be streamed live globally over the next year.
November looks to be a big month for Tennant: not only will he appear in this historic, first-ever live stream of a RSC play, he'll return to his role as Time Lord alongside Matt Smith, Billie Piper, Jenna Coleman and John Hurt in the Doctor Who 50th anniversary special, which is set to air November 23. (His acclaimed performance as a detective in Broadchurch will hit BBC AMERICA on August 7.) How's that for an early name-your-end-of-year-holiday present, folks?
No word on which movie theaters will actually screen the performances or if we'll see a DVD/Blu-ray release.
Read More
Filed Under: