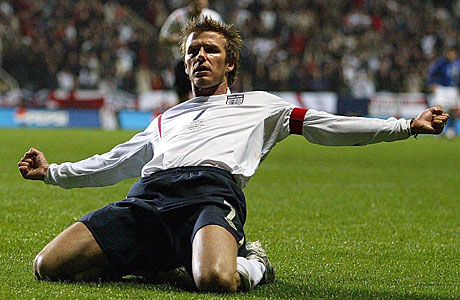 It's a momentous day for fans of the sport Americans call That British Kickball, especially for the followers of legendary clubs like Manchestershire Rovers, Real Mildred and AC Casem: David Beckham, arguably the most famous hoofybootist in the world – and something of a style icon, by all accounts – has announced his retirement.
Actually, all kidding aside, this is a fairly big deal even for non-soccer fans. During his long and remarkable 20 year career, Beckham, 38, represented England 115 times, won 19 trophies, and helped his club to win the league title in four different countries, most recently the French club Paris St-Germain, to whom he signed in January.
He was part of the Manchester United team that won the Premier League six times, and the Champions League too. And his stint at LA Galaxy, arriving with his wife Victoria as part of the international Beckham superbrand, is credited with dramatically raising the profile of soccer in the U.S. It's at this point he became almost better known as an ambassador for his sport, than as a player.
In a statement, David told the press that he's pleased that his most recent placement – for which he has donated his entire fee to charity – allows him to go out on top: "I'm thankful to PSG for giving me the opportunity to continue but I feel now is the right time to finish my career, playing at the highest level.
"If you had told me as a young boy I would have played for and won trophies with my boyhood club Manchester United, proudly captained and played for my country over 100 times and lined up for some of the biggest clubs in the world, I would have told you it was a fantasy. I'm fortunate to have realised those dreams."
"Nothing will ever completely replace playing the game I love. However, I feel like I'm starting a new adventure and I'm genuinely excited about what lies ahead.
"I'm fortunate to have been given many opportunities throughout my career and now I feel it's my time to give back."
Here's a collection of some of his best work:
David Beckham's last professional game will be on May 26.
Read More
Filed Under: