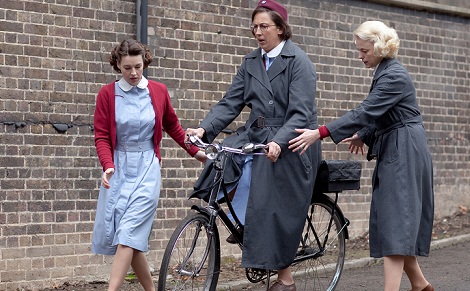 There were happy endings and new beginnings even as possible threats gathered on the horizon by the time the end credits rolled on the Season 2 finale of Call the Midwife, the popular BBC-produced series that airs on PBS in the U.S. It was a terrific episode, containing many of the "aww" moments that fans have come to cherish in this British period drama about a group of nurse-midwives and medically trained nuns who live among and serve the poor in London's East End.The episode opened with Old Jenny (voiced by Vanessa Redgrave) looking back over the years to the fall of 1958. "With the return of [a pregnant] Chummy and her impending new arrival, life at Nonnatus House felt full of excitement and fresh promise. If clouds were gathering, we could not see them, and if the winds of change were blowing, we had yet to feel the breeze," she says.
There were four main stories spinning through the episode: 1) a visit by Dolly (Ella Smith), the pregnant daughter of Nonnatus House's handyman Fred (Cliff Parisi); 2) the birth of Chummy's baby; 3) the introduction of a new love interest for Young Jenny (Jessica Raine); 4) and finally allowing Sister Bernadette (Laura Main) and widowed Dr. Turner (Stephen McGann) to declare their true feelings for each other.
Early in the episode, Dolly, a jolly sort, arrives for an extended visit in a rental van with her toddler son in tow. Her husband is off on duty with the merchant navy. She and Fred clearly have fond relationship and he dotes on his grandson.
A hugely pregnant Chummy (Miranda Hart), only recently returned with policeman husband Peter (Ben Caplan) from a missionary visit to Africa, is living temporarily at Nonnatus House. Peter complains to her that one of the nuns has been in the bathroom forever. Chummy knocks on the bathroom door for him and it is opened by curmudgeonly Sister Evangelina (Pam Ferris), who has towel wrapped around her head and is none to pleased to have her toilette interrupted. Looking directly at Peter, she scolds, "My Sisters and I will not want to come in here ever again and find the seat of a certain item standing upright."
Jimmy (George Rainsford), Jenny's childhood friend and former beau who earlier in the season somewhat reluctantly wed a young woman he had gotten pregnant, arrives at Nonnatus House. An architect, he and a colleague, Alec Jesmond (Leo Staar), are to take pictures the place as part of a survey for the local district council. "Great hulks like these are becoming relics," says Jimmy.
Jimmy tells Jenny he's finding real joy in fatherhood and his marriage has worked out better than he would have expected. Jenny is glad and tells him that she is happy, too. "I've grown to love nursing more and more. It's become the thing that matters most to me," she says. Jimmy all but tells her that nursing won't keep her warm at night.
Sister Bernadette's TB is in remission thanks to her treatment at a sanitarium and she's going to be discharged soon, with fans hoping it will be into Dr. Turner's arms. All she knows is that she'll be leaving the order. "I'm still not entirely certain where my home is or ought to be," she tells a visiting Sister Julienne (Jenny Agutter), the kindly head nun at Nonnatus House.
Back at Nonnatus House, Sister Julienne and Sister Evangelina dig out the suitcase full of civilian clothes that Sister Bernadette surrendered when, fresh out of nursing school, she joined the convent in 1948. Sister Evangelina says she always wondered if their fellow Sister and other young women who took vows in the immediate post-WWII years were inspired by genuine faith or merely the popular 1943 film, The Song of Bernadette. Sister Julienne looks thoughtful and observes–another potential dark cloud on the horizon!–"New vocations are dwindling by the year."
Alec, Jimmy's colleague, has taken a shine to Jenny, who won't give him the time of day. He shows up at Nonnatus House to fix the convent's broken motor scooter (the same one that played a prominent role in last week's episode) and a few days later tries to schmooze her during an encounter on the street. "My ultimate goal is to take you out, but I'd settle for a smile," he tells her.
Dolly develops toxemia. (Fans of Downton Abbey will recognize the symptoms–swollen ankles, protein buildup in the urine, headache–as it was what killed poor pregnant Lady Sybil this past season.) She is hospitalized and Fred is put in charge of little Anthony, his grandson, and proceeds to bathe the toddler all over in shampoo.
Sister Julienne shares a troubling letter–more dark clouds!–with Sister Evangelina, though viewers don't learn its contents. "I suggest we keep this to ourselves until the situation becomes a little clearer," the head nun says.
Trixie (Helen George) and Jenny knit blanket squares, a task that had been assigned to Sister Monica Joan (Judy Parfitt), the elderly, slightly dotty nun who is clearly on a downward slide–another dark cloud! Trixie answers when Jimmy rings up Nonnatus House. He and pals have booked a gig for their newly formed jazz band and he's hoping to drum up an audience. Telling him they'd love to come, Trixie jokes, "We'll have a baby cham, thanks you very much, and expect a whiskey sour for Sister Julienne."
At the jazz club, it turns out that Alec is in Jimmy's band. Jimmy tells Jenny, "He really likes you." She reluctantly agrees to dance with the poor guy. Soon the two are up on the roof of the club pointing out constellations and then Alec walks her home to Nonnatus House. Love is in bloom, marred only by Alec inadvertently letting the cat out of the bag regarding the contents of the letter that Sister Julienne received.
"Do you know where [the nuns] will go next?" he asks Jenny, telling her that the convent has been marked for demolition because a new freeway is coming through.
Sister Bernadette has made her decision. Having ditched her habit in favor of a fitted suit (though still wearing her schoolmarm-like, cat eye glasses), she telephones Dr. Turner to inform him that she's catching a bus from the sanitarium to London to see him. "I thought for a long time I was in the wrong place. But I wasn't. I was just living the wrong life," she tells him.
Dr. Turner quickly heads for his car to intercept her; Timothy hops in, too. "Shall I shout, stop, Sister Bernadette?" the boy asks.
"No, leave the talking to me," Dr. Turner tells his son.
Driving along a foggy road, the two spot Sister Bernadette walking in the distance, carrying her suitcase. Dr. Turner pulls over, gets out and runs to her. He puts his coat around her shoulders and they finally exchange first names. She is Sheila, he's Patrick. "There," says the former Sister Bernadette, "we've made a start." They smile woozily at each other while Timothy beams.
Jenny and Chummy assist Dolly as she gives birth to a healthy baby girl. "Squealing like a piglet. Just the way we like them," Chummy says.
Chummy brings Fred the new baby, which he holds reverently. Then he gives Chummy a peek into his own deprived childhood. "My dad spent more on beer than he did shoes for us, ever. I thought when I had kids I was going to give them shoes, hot dinners and a happy home. And I managed all three," Fred tells Chummy. She looks at him as if he's the wisest man she ever met.
Sister Julienne has Sister Bernadette sign the official paperwork marking her formal departure from the order. The two women embrace. "May God bless you, my dear good friend," says Sister Julienne.
Chummy goes into labor shortly after her tête-à-tête on parenting with Fred. As the process drags on, a nervous Peter waits in the parlor. When Sister Evangelina brings him tea, he asks if there's any news. "It's a baby, not a lubricated penguin. They don't just come sliding out," she tells him.
There's trouble, bad trouble, with Chummy's labor. She's hemorrhaging and Jenny, phoning for an ambulance, tells the dispatcher, "It's a suspected placental abruption." Chummy is rushed to the hospital and whisked into an operating room. Peter paces the hospital corridor while the midwives and nuns wait anxiously at Nonnatus House. To occupy themselves, they all work on knitting the squares for a blanket, the task that earlier had been given to Sister Monica Joan.
Cynthia (Bryony Hannah) worries that they don't have a phone number for Chummy's family in far-off Madeira. "Chummy's family is here in this room," Jenny says firmly.
Chummy survives, but barely. When next we see her, she's asleep in her hospital bed, looking pale. Peter is slumped in a chair next to her holding their new baby. Sister Julienne and Jenny arrive for a visit. Jenny unwraps a large parcel she has brought with her. It contains the newly knit patchwork blanket, with which she and Sister Julienne gently cover Chummy. Peter puts the baby up against his sleeping wife's chest.
At first Chummy fails to respond but then, slowly, she opens her eyes to greet her child. "Hello, little one. It's all right. I'm here," she tells the baby and smiles. Peter, Sister Julienne and Jenny grin in relief.
Sheila, aka Sister Bernadette, visits Dr. Turner in his office. He hands her a small box. She opens it to find an engagement ring. On the inside of the wrapping, Timothy has written, "Please will you marry my Dad." Dr. Turner puts the ring on her finger and kisses her hand. Sheila smiles lovingly at him.
Wrapping things up, we get a quick montage of Dr. Turner and Sheila beaming at each other, Dolly and Fred cooing over her baby, and Chummy and Peter cuddling their baby at its christening as the rest of the residents of Nonnatus House gather round. "Chummy called her baby Fred after the man who showed her the simplicity of parenthood," Older Jenny tells us.
Tying up another loose plot thread, Older Jenny says, "Nonnatus House was threatened"–we see a "Demolition" sign on its door–"but its spirit was not shaken."
As the show closes, Young Jenny jumps aboard a scooter behind Alec, clasping him from behind. As she and her new sweetheart zip through the streets of the East End, Older Jenny says she still recalls her days all those decades ago at Nonnatus House, "when the world was new and bright and I was delirious with joy, when I ached with love and my soul went questing."
The questing will continue in Season Three of Call the Midwife. It begins airing in the U.K. next fall and on PBS in early 2014.
What was your favorite moment in Season Two? Your least favorite?
Read More
Filed Under: