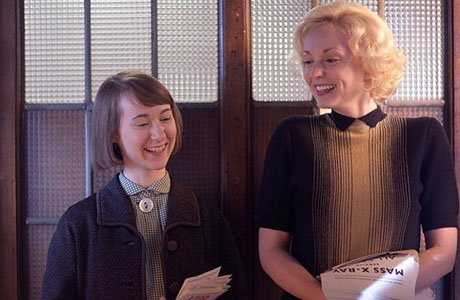 This week's episode of Call the Midwife, the British series about a group of nurses and nuns who see to the medical needs of the poor living in London's East End in the late 1950s, was a solid one.  It lacked only in an appearance by, or even a mention of, Chummy (played by Miranda Hart), our favorite galumphing nurse-midwife, who is currently off in Sierra Leone on a temporary visit as a missionary.
The closest fans got to a Chummy fix was when Sister Monica Joan (Judy Parfitt), the slightly dotty older nun at Nonnatus House, locked herself into the bathroom and Fred (Cliff Parisi), the handyman, asked through the door how she was doing. She cheerily appropriated one of Chummy's favorite phrases, telling him she was feeling "tickety-boo."
The episode began with the older Jenny (voiced by Vanessa Redgrave), looking back over the years, telling us in a voice-over that the nuns and midwives kept the secrets of their patients, but adds, "We had secrets of our own. Who could we turn to when our hearts were full, when we were afraid?"
The one with the biggest secret, fullest heart and greatest fears this week will be Sister Bernadette (Laura Main), the youngest of the nuns at Nonnatus House.  As the episode begins, she is lying in her bed gazing longingly at her palm, the one that the widowed Dr. Turner (Stephen McGann) had kissed in the previous episode, the first physical expression of the obvious attraction between these two characters, which has been building all season.
After that, the show launched its two other major storylines of the night: a patient turned up at the clinic coughing blood into her handkerchief, causing Dr. Turner to announce that Poplar was experiencing a tuberculosis epidemic and he needed a medical van with X-ray equipment to set up an early detection screening program.  We were also introduced to Julia (Lisa Diveney), a young woman working as a typist who was wearing a restrictive girdle to conceal her out-of-wedlock pregnancy.  Julia, it turns out, has been estranged from her father, a cantankerous pub owner, for years but visits him upon learning that he is ill and refusing to see a doctor.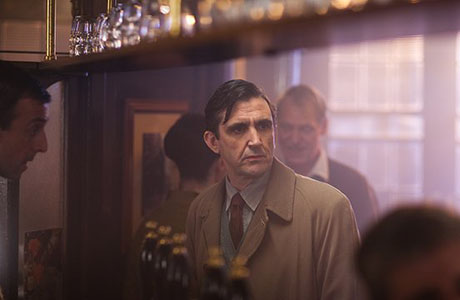 At Julia's request, Dr. Turner shows up to visit her ailing father, Mr. Masterson (Karl Johnson).  Dr. Turner tells Julia that her father has a bad heart and is dying and she needs to stay with him. Julia says she has a job and a life and can stay only two nights. Her father seems no more eager for her company than she is for his.
Sister Bernadette assigns young Jenny (Jessica Raine) to care for Mr. Masterson, telling the nurse that he's difficult but she knows that Jenny can handle him.  It's a welcome acknowledgement of her growing competency over the past season and a half.
Upon visiting Mr. Masterson, Jenny learns that he lost his wife, five sons and a daughter to TB.  He tells Jenny that Julia, his only remaining family, left one day six years ago and never came back. "That girl thinks of herself, that's all. Even now, she can't wait to get out of that door," he says.
With her newfound understanding of the family's situation, Jenny tells Julia,  "You're all he has left. He's your father and he's still here."  She then discovers, when Julia looks faint, that the young woman is 8 months pregnant. Jenny asks after the father of the baby.  Julia says bitterly that he told her he's marrying his sweetheart. "Funny, I thought I was his sweetheart," she says. Jenny smiles sympathetically and extracts a promise from Julia to ditch the girdle as it could harm the baby.
Dr. Turner, aided by Sister Bernadette, is pleading with an officious bunch of government bureaucrats for an X-ray machine for TB screenings. The two make for an effective lobbying team, successfully persuading the administrators to send an X-ray van to Poplar the following week. Afterward, the doctor and nun practically high five each other.
Back at Nonnatus House, Dr. Turner interrupts the nuns and midwives' meal to give them the good news about the X-ray van. "And so the gamma rays enter our galaxy," says Sister Monica Joan, who's clearly not keen on this newfangled medical technology.  The ever-practical Sister Evangelina (Pam Ferris) is put in charge of crowd control for the X-ray van.  Sister Monica Joan endorses this new enforcer role for her Sister Evangelina, noting, "She has a voice somewhat reminiscent of a fog horn."
At the Masterson residence, Jenny is playing referee as Mr. Masterson and Julia snipe at each other. "Could we have some calm, please?" she pleads.  Later, Julia, who has gone to college, tells Jenny that she hoped to come back and show her father that she'd made something of her life but now, as a single mother, that won't happen. Jenny begs to differ, saying, "This will be his first grandchild. That's quite a legacy to give a dying man.
Julia and her father hesitantly reconcile.  Both say they needed the other during their time of grief and felt abandoned. Mr. Masterson asks when her baby is due and says, "Please stay. Have the baby here. I'd like that very much." She looks pleased and agrees to stay.
The big day has arrived: the X-ray van visits Poplar and the crowds mill about. Sister Evangelina bellows, "Form a queue!"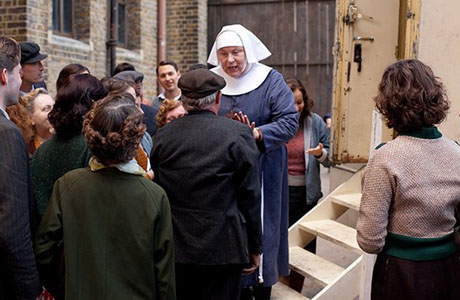 Sister Monica Joan is fearful about getting X-rayed.  She barricades herself in the bathroom at Nonnatus House, wedging a chair against the doorknob. Fred is brought in to help. That's when she tells him that she's "tickety-boo."  With the assistance of Jane (Dorothy Atkinson) and despite his fear of heights, Fred bravely climbs a ladder and enters the bathroom through a window to persuade Sister Monica Joan to come out. He promises he'll be right by her side through the entire procedure.
In the X-ray van, Sister Bernadette helps coax a scared little girl who's reluctant to have her chest X-rayed.  Sister Bernadette has a chest X-ray herself to show the girl how easy it is and that there's nothing to fear. "You're a natural," Dr. Turner tells Sister Bernadette approvingly.
Later that night, Dr. Turner visits Nonnatus House to speak to Sister Bernadette in private.  Sadly, it's not the declaration of love some of us have been hoping for. Rather, he's there to tell her that her X-ray has revealed lesions on her lungs and he needs to do a more thorough exam. The exam indicates that there is indeed cause for concern and Dr. Turner arranges for more extensive X-rays for her in the morning at the hospital and tells her that he'll drive her there. After he's gone, Sister Julienne (Jenny Agutter), the kindly head nun, brings Sister Bernadette hot milk to calm her and help her sleep.
Jenny is tending to Mr. Masterson, who is sinking fast, when Julia's water breaks.  Jenny sends for Sister Julienne to come help her. The older nun stays with Mr. Masterson while Jenny assists Julia with her labor.
Julia gives birth to a healthy baby boy. "He's beautiful," Jenny tells Julia.
Julia has only one request: "Can you take him straight to Dad?"  Jenny does and Sister Julienne tenderly puts the baby into Mr. Masterson's arms. "I'm just leaving, I'm afraid, and you've just arrived.  I'm very pleased to meet you," the new grandfather tells his grandson. A weary looking Julia arrives in the room in her bathrobe.  Her father smiles at her and then instructs the baby in his arms, "You look after your mother. That's your job."  He then breathes his last.  Julia cries and bends over her father while Sister Julienne gently lifts the baby out of the dead man's arms.
As the episode winds up, we find out that Julia's father has left her the pub and the living quarters above it. She and the baby are contentedly ensconced there, her future secure.
Dr. Turner drives Sister Bernadette for additional testing, neither of them speaking. When his original diagnosis is confirmed, he then accompanies her to a residential hospital for TB patients.  He tells her new treatments are proving miraculous and there's every reason to be hopeful. Sister Bernadette smiles sadly at him. "Thank you," she says. "You've been more than kind."  As she heads into the sanitarium, he looks after her longingly.
"Sometimes love cannot be spoken, only shown," sums up the older Jenny on the soundtrack.
Did you like this episode?
Read More
Filed Under: