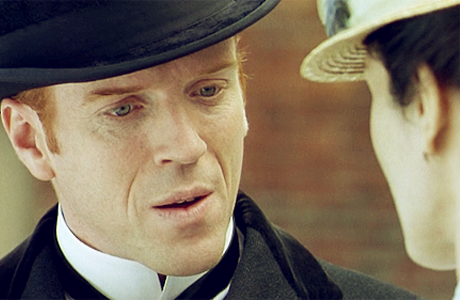 With Downton Abbey on hiatus, we expect you may be jonesing for some British costume dramas. Just a friendly reminder, there are plenty of shows streaming online and we've picked out a sampling of five to highlight:
1. Upstairs, Downstairs (2010)
The series available on Netflix picks up six years after the original 3-part series concluded. Rose Buck (Jean Marsh) is housekeeper to Sir Hallam (Ed Stoppard) and Lady Agnes Holland (Keeley Hawes) who live at 165 Eaton Place. Rose runs an employment agency for domestic servants, ultimately building a strong staff for Eaton Place who soon pull together like a family.

Upstairs, Downstairs on Netflix 
2. The Buccaneers
Four wealthy American sisters travel to London in search of husbands of stature. Back in NYC they were looked down on as "new money" but in England they have a lot of pull. The girls grapple with the moral dilemma of marrying for social status versus romance.

The Buccaneers on Netflix 
3. Brideshead Revisited
Charles Ryder (Jeremy Irons) befriends the eccentric Sebastian Flight (Anthony Andrews) while studying at Oxford. The well-to-do Sebastian adopts Charles as a pet and brings him to his lavish family home for a visit where Charles falls for his new friend's sister. Is Charles smitten with the girl or the lifestyle?

Brideshead Revisited on Amazon.com Instant Video
4. North & South
Margaret Hale (Daniela Denby-Ashe) is forced to leave her home in Southern England and move to the North when her father leaves the clergy. She struggles to adapt to the harsh conditions of her new surroundings. She finds a distraction in the town's mill owner (Richard Armitage).

North & South on Netflix
5. The Forsyte Saga
Soames Forsyte (Damian Lewis) is a dastardly fellow who is so possessive of his wife that he tries to send her to the country so he doesn't have to share her with anyone. His plan backfires when she begins an affair with the architect designing the country house for her to be hidden away in. Forsyte's wife is just another one of his possessions and this doesn't end well. The saga follows three generations of Forsytes with the stories intertwining.

The Foryste Saga on Netflix
What are some of your favorites?
Read More
Filed Under: