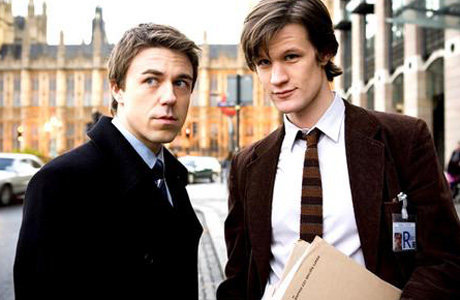 BBC America aired the original House of Cards on February 17, 2013. Don't worry if you missed it, it's currently available on Netflix and on Blue-ray at the BBC Shop. Check out some other British political dramas you may enjoy:
1. Party Animals
The series revolves around the staff of researchers and advisors working behind the scenes in Westminster. Matt Smith plays Danny Foster, a Parliamentary researcher, who in the first episode leaves sensitive materials at a pub by mistake which is leaked to the opposition. In his defense, he was busy chatting up the pretty intern.
Party Animals on Netflix; on Hulu.com.
2. The Politician's Wife
Before there was The Politician's Husband, currently airing on BBC2 starring David Tennant and Emily Watson, there was The Politician's Wife. The premise revolves around a successful politician (Trevor Eve) who is found out to be having an affair with a former escort (Minnie Driver). The show is driven by the reaction his wife (Juliet Stevenson) has to the misdeeds.
The Politician's Wife on Netflix.
3. The State Within
Jason Isaacs stars as Sir Mark Brydon, the British Ambassador to D.C., who finds himself at the center of a conspiracy. UK citizens are suspected of blowing up a U.S. aircraft but Brydon believes it is a set-up. He thinks he's being followed and his office is bugged … he doesn't know who to trust.

4. The Last Enemy
Benedict Cumberbatch portrays Dr. Stephen Ezard who is asked to consult on the creation and implementation of a government-monitored, civilian tracking system, T.I.A. (Total Information Awareness). A deadly virus has been released and T.I.A. comes into play but it infringes on privacy and safety issues. It turns out the virus is only having an effect on an isolated group of people.

5. The Amazing Mrs. Pritchard
Ros Pritchard (Jane Horrocks), grocery store manager, isn't impressed with GB's political situation and the lack of quality candidates. With no political experience, she runs for election as an independent candidate in her hometown. Lo and behold, her political platform gains momentum and she wins the general election, resulting in her becoming Prime Minister.

The Amazing Mrs. Pritchard on Netflix. 
 What's on your watch-list? 
Read More
Filed Under: