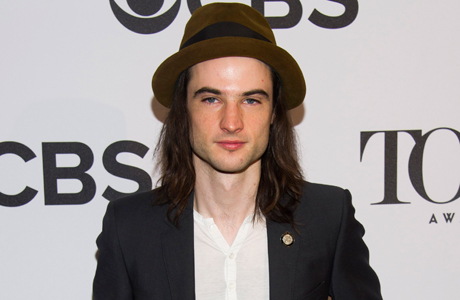 Ask many travelers, and they will tell you they can recognize a particular city from the quality of its light.
British actor Tom Sturridge, a Tony nominee for his performance in the Broadway play Orphans, is one of those people. "I miss the light," he says. "There is something about the light in London which is different to anywhere in the world. I could look at London's sky with no context and know that it was London, I miss that."
Sturridge, who was nominated in the Best Actor in a Leading Role in a Play category, stars opposite Alec Baldwin and Ben Foster in Orphans, the story of two brothers from Philadelphia who kidnap a man who ends up not being what they expected.
Sturridge, who plays the younger brother, was elated when he found out he'd received a Tony nomination: "I was dumbfounded. I mean, it really wasn't on my radar that it would be a possibility. I had like twelve emails, and I'm someone who gets one email a week, so I was just so excited that when I realized that they were about being nominated for a Tony."
One of Sturridge's challenges in Orphans is to sound like his North Philadelphia character, not the easiest of tasks. But Sturridge didn't find the doing the American accent overwhelmingly difficult.
He says, "English people, we're so exposed to American television throughout our lives that I think I kind of have an ear for it. I try and find how I imagine someone would speak which is kind of different to an accent. Once I found a voice, then the accent comes."
Orphans attracted a lot of press in February during rehearsals when Shia LaBoeuf, who was playing Ben Foster's role of the older brother, quit over "creative differences" amid a flurry of tweets. The director acknowledged that LaBoeuf and Alec Baldwin were "incompatible."
But Sturridge is a big Baldwin fan: "He is one of the most impressive human beings I've ever encountered. He's fiercely intelligent and has such burning charismatic presence as an actor that it's electric to be onstage with him."
But Baldwin's star power and the Tony nominations for both Sturridge and the play itself have been unable to save Orphans. The production never really gained its stride after opening to mixed reviews and experiencing disappointing attendance. It is closing on May 19 several weeks before the end of its scheduled run.
Read More
Filed Under: