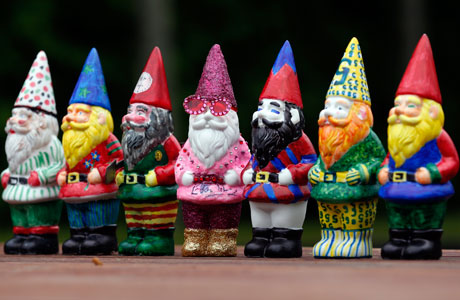 See these hirsute little men? See their pointy hats? I'm ashamed to admit that they have been allowed entry into one of the finest events in the British horticultural calendar: the Chelsea Flower Show, for the first time ever.
Every year, until now, vulgar little gnomes like these have been rightly kept out, by the Royal Horticultural Society, who refuse to allow any "brightly-colored mythical creatures" to grace the displays, lest the tone be irrevocably lowered.
No matter how hard they try, sneaking under hedges, sky-diving in from little helicopters, gnomes have found it impossible to break in, and quite right too. They're cheesy, they do not decorate a garden in the manner to which Chelsea Flower Show attendees find comfortable, and they are a blight upon the neighbourhood.
But somehow this year, under the umbrella of 'celebrity makeovers,' gnomes have been allowed within the hallowed grounds.  This is the Flower Show's centenary year, and to mark the occasion, celebrities – including Sir Elton John and Dame Helen Mirren – have designed their own gnomes, which will be flogged publicly sold on eBay, with proceeds going to the Royal Horticultural Society's Campaign For School Gardening.
Dame Helen feels particularly strongly about the idea of introducing gardening lessons to school curriculums, telling the Telegraph:
"Not enough young people garden or even know how to. They should teach it in schools. It's such a positive thing to do and very useful."
"It's important to have a variety of skills."
Yes, but where does she stand on the vexatious issue of gnomes, the ones that the lower orders seem to be so fond of?
"I'm fond of gnomes, but I don't have any in my own garden."
A-HA! Thought as much.
Read More
Filed Under: