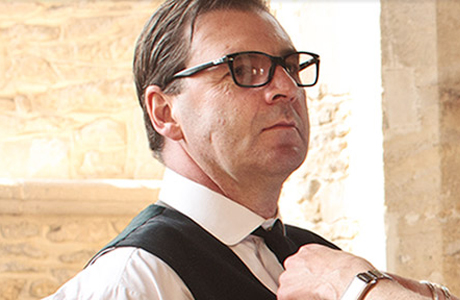 Has it been a dream of yours to appear on Downton Abbey as an extra? To rub elbows with the upstairs and downstairs actors? Well … keep dreaming, because that's not going to happen (at least this time around). BUT, you can act as a servant to actor Brendan Coyle, who plays valet John Bates, when he's in NYC this summer. He has agreed to, "let himself be waited on hand and foot by a super lucky auction bidder."
We're still trying to wrap our minds around the prize as it's a little confusing. Here's the skinny on it: Coyle will be in NYC from August – December 2013; BiddingforGood is hosting an auction on behalf of the Origin Theatre Company, which starts at a $1000 bid, for the lucky winner to wait on Coyle one fine evening; the winner (we use this term loosely) will read poetry to Coyle in a horse-drawn carriage ride in Central Park (very romantical); the night will continue on to the posh Per Se at the Time Warner center; the winner is then supposed to offer his/her dessert to Coyle; after dinner, the winner will make sure Coyle gets in a cab and is safely on his way home; Coyle, in return, will let the winner know he has made it to his hotel (we are assuming via text or a phone call … but possibly email or pigeon mail).
We get that acting as a servant may be in the same vein as getting zombified like the fans of Walking Dead but this plan is rather flawed. The item is listed as "Get the royal treatment" but it's actually the other way around. Aghast, a servant wouldn't sit down to dinner with his employer. Really, the winner should just stand behind Coyle as he eats and wait for any requests or directions. Or, even better (more factual), stand facing the wall. But, you can stare at a wall at home versus make a $1000-plus bid. Most importantly, what if the winner doesn't want to share his dessert!
Alright, maybe we're taking this too seriously and reading too much into it and we'll employ the "suspension of disbelief" theory and go with it as, "Hey, hang out with one of your favorite stars from one of your favorite shows!"
The auction lasts until May, 29 11:59pm Eastern. But, there is a note saying, "After the online bidding closes, this item will be going to a Live Event for further bidding." It's like the never-ending auction.
These concerns may be moot as no one has made a bid as of yet.
Does this sound tempting to you?  
Read More
Filed Under: