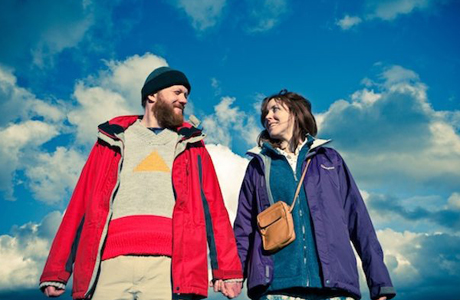 There's a widely-held view that many Americans don't get British humor, that they're just too literal minded and can't comprehend British irony. U.K. filmmaker Ben Wheatley, who's in town this week to promote his new black comedy Sightseers disagrees.
"I think the American audiences are perfectly capable of understanding irony," he told me. "The days of pretending that the U.K. is the home of all irony are over."
He also believes it's a mistake to see the Britain as the sole repository of black comedy. "We only ever see English-speaking comedy, who knows what's going on in Germany and France. The Scandinavians are particularly dark as well."
Sightseers has both dark comedy and irony. Wheatley describes his well received film as a rom-com involving a British couple on a caravanning road trip where the man in the relationship has a rather nasty hobby. That hobby is killing people.
Despite this unfortunate character trait the couple in their own idiosyncratic ways do have appealing aspects to their personalities. Wheatley says, "I think it's a difficult thing for me to make a movie about characters that I don't like or get along with. I always try and be as sympathetic towards the characters as possible."
Wheatley has moved on from Sightseers and just completed his fourth feature, A Field in England, with its focus on the English Civil War.
Its content sounds a little mind-boggling. In his words it's a story of "soldiers escaping from a battle ending up trapped inside a mushroom circle and doing lots of psychedelic drugs."
There was talk that A Field in England would be shown at the Directors' Fortnight at Cannes this month, but it isn't in the lineup. Wheatley has his own perceptions of Cannes, a festival that provided him with a great platform to launch of Sightseers last year. "Cannes is a French regional festival, isn't it?" he says, adding, "It's that and then it's international. So Cannes is a dog that's wagged by a very particularly French tail, isn't it?"
In Britain, A Field in England is going to be the first film ever to be released simultaneously in cinemas and on DVD, TV and through video-on-demand in July. The picture has just won a U.S. distribution deal, and it will be in cinemas here later in the year.
Clearly, Wheatley's career is going exceedingly well — and he remains a very original voice in British cinema.
Read More
Filed Under: