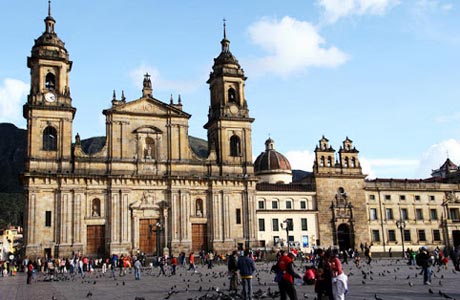 Just because you've moved to the United States of America, it doesn't mean you have to spend all your vacation time in the 50 states. Hop on a plane and you can reach hundreds of exotic destination in just few hours, and with minimal jetlag. Add these hotspots to you travel wish list.
The Caribbean
With 28 countries and more than 7,000 islands to explore, most within easy reach of the east coast, you could holiday in the West Indies every year for the rest of your life and never get bored. Whether you want to luxuriate in a boutique hotel, cruise turquoise waters or book in at a family-friendly resort, this tropical cluster has it all. (Lonely Planet suggests six unmissable Caribbean towns, from Willemstad, Curaçao to Roseau, Dominica.)
Costa Rica
The safe, eco-friendly heart of Central America — the government aims to make Costa Rica the first carbon-neutral nation by 2021 — has long been a vacation favorite of Americans. With one side on the Pacific and the other facing the Caribbean, this tiny nation has a multitude of microclimates. Scenery and conditions can shift suddenly and spectacularly, with wet and misty cloud forests giving way to sun-soaked beaches.
São Paulo, Brazil
Okay, this one's a little further afield than almost everything else on the list, but you should go anyway. Often passed over for Brazil's beach and party capital, Rio de Janeiro, São Paulo is actually the nation's biggest city and it's filled with delights, especially if you're a foodie. In 2012, its most vaunted eatery, D.O.M — which blends Amazonian produce with European fine dining — was named best restaurant in South American by Restaurant magazine.
Bogota, Columbia
The Colombian capital was once synonymous with drugs and danger, and only visited by the most foolhardy tourists. But recently Bogota has emerged as one of Latin America's coolest cities and, as it's just a three and a half hour flight from Miami, a hotspot for adventure-seeking Americans. This cosmopolitan metropolis has everything from stunning Spanish colonial architecture to thumping nightclubs.
Nicaragua
Not so long ago, this stunning land of lakes and volcanoes was a no-go, due to a bloody civil war that raged until 1990. Now, it's one of the safest spots in Central America and a magnet for scenery fiends. Departing from the southern U.S., it takes under three hours to reach the capital Managua.
Mexico
Tourists may want to avoid the dangerous northern territories but lower down there's still plenty to enjoy, including the bustling, culture-chocked capital Mexico City. Americans in search of a warm winter retreat might head to one of the country's major resorts along two beach-packed coastlines.
Montreal
Quebec's biggest city, just over the New York state border, is the world's second largest French-speaking city after Paris.  So you might want to dust off your GCSE Franglais. Head here for the great museums, pretty buildings and a comfortingly European atmosphere.
https://www.youtube.com/watch?v=dyb0yDe0j_Q
Vancouver
If you're set on a city break but also fancy hitting the slopes, head to this winter sports hub. Three major ski spots – Cypress Mountain, Grouse Mountain and Mount Seymour – are just half an hour north of the city's bustling downtown district.
The Galapagos Islands (Ecuador)
This isn't somewhere for a cheap weekend excursion – think more bank-busting holiday of a lifetime. But departing from the U.S. instead of Europe makes it that much more doable. Here, you can rub scales with species found nowhere else on earth, like the Galapagos giant tortoise and marine iguana.
Panama
Fly direct to the capital, Panama City and, once you've absorbed its charms (think shanty towns butted up against sleek condos and an old town dotted with colonial churches and plazas), use it as a hopping off point to explore this relatively tourist-free part of Central America. Unlike neighboring Costa Rica, the beaches tend not to be overdeveloped.
Where are you off to?  
Read More
Filed Under: