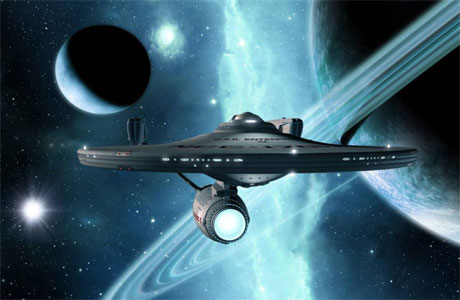 The Star Trek universe is very big and very inclusive. People from all Earth nationalities and extra-terrestrial races mix freely within the crew of the Enterprise, and that means a huge variety of onboard accents. Sometimes this can result in employment prospects for some of Britain's finest thespian talent, although the show's most notably British character – Montgomery "Scotty" Scott – was first played by James Doohan, a Canadian.
We shall return to this point presently, but in the meantime here's a selection of other British thesps (with video evidence, where possible) that have boldly (and in the case of Sir Patrick, baldly) gone where no man (woman or alien) has gone before.
Sir Patrick Stewart (Star Trek: The Next Generation)
Let's be honest, you knew about this one already. Fancy a cuppa?
Benedict Cumberbatch (Star Trek Into Darkness)
Yes I know! It's him out of Sherlock! In a Star Trek movie! Who knew?
Noel Clarke (Star Trek Into Darkness)
That's a really big gun, Mickey.
Barrie Ingham (Star Trek: The Next Generation)
http://www.youtube.com/watch?v=pZlaoodeIuw
Keeping up with a fine tradition of accent-hopping here. Barrie is not really Irish, he's from Halifax. His other point of commonality with Simon Pegg is that he's appeared in Doctor Who AND Star Trek. A feat that very few actors have managed.
Speaking of which…
Mark Sheppard (Star Trek: Voyager)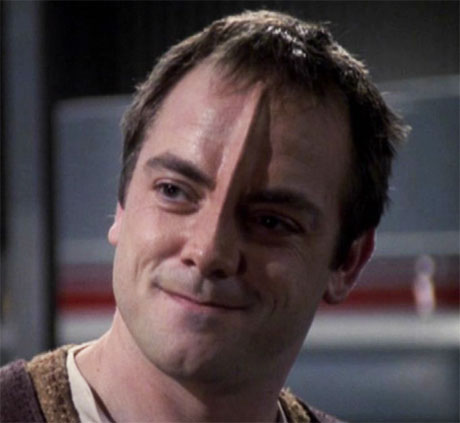 Fun fact: Mark's dad W. Morgan Sheppard also appeared in Star Trek: Voyager. Mark Allan Sheppard (no relation) was in Star Trek: Deep Space Nine.
David Warner
David's something of a Trek veteran, having appeared in Star Trek V: The Final Frontier, Star Trek VI: The Undiscovered Country, Star Trek: The Next Generation, and even the video game (seen here) Star Trek: Klingon Academy. He was approached to be in Star Trek: Deep Space Nine but it was while he was on vacation and his wife said no.
Simon Pegg (Star Trek (2009), Star Trek Into Darkness)
Every bit as non-Scots as James Doohan. But far famouser in his own right. You win this time, popularity.
Joan Collins (Star Trek)
Kirk. Finds. Edith. Keeler. Most. Uncommon. Spock.
Malcolm McDowell (Star Trek: Generations)
Amazing amounts of fooey on display in this loveable romp, but amid the talk of crossing the universe to enter a gateway to another world (presumably not one of the near infinite number of worlds you pass on the way), there's a proper British baddy, just like Benedict.
Deep Roy (Star Trek (2009))
See this guy? Face like a wind-blasted tree stump? He's British (albeit born in Kenya). AND he was all the Oompa Loompas in that Tim Burton Willy Wonka movie. That's range, that is.
OK, Trekkies, who did we miss? Tell us here:
Read More
Filed Under: