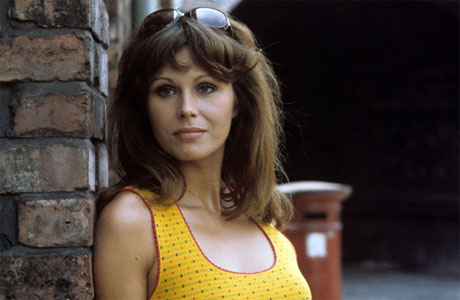 Never mind the Billboards, the real trophy-doling fun of the weekend happened on Saturday night, at the British Soap Awards, in which the great, the good and the downright torrid rubbed fake-tanned shoulders and practised the most outrageous Nominated Loserface in the bathrooms of MediaCityUK, Salford.
Coronation Street, the longest-running TV serial drama in the world. was the big winner on the night, taking eight awards compared to a comparatively paltry one for their main rivals, EastEnders. This despite both programmes going in with a roughly equal split of nominations: 16 for the former, 15 for the latter. Even the relatively lowly Emmerdale managed two awards, while the perpetually sexy Hollyoaks took home five.
Which just set us thinking about all the fine British talent that has passed through the academy of soap over the years, some of whom have ended up far from their relatively humble roots.
Yep, you can settle down, I think I feel a Top (counts on fingers) 12 coming on, with supporting videos if we can find 'em:
Davy Jones (Coronation Street)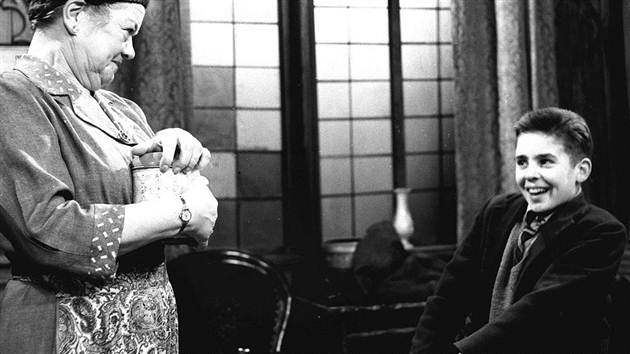 AW would you look at that! That's Davy in 1961, making his TV debut on Coronation Street, as Ena Sharples' (that's her on the right) grandson Colin Lomax. Just five short years later, that cheeky scamp would be a different sort of Monkee entirely.
Michelle Ryan (EastEnders)
She may have gone on to become a short-lived bionic woman in that TV show about a bionic woman (I forget the name), she may have been Lady Wossname de Souza in Doctor Who, and the sorceress Nimueh in Merlin, but once you're a Slater, you're always a Slater.
Sarah Lancashire (Coronation Street)
Another actress whose post-soap career included a meeting with the Tenth Doctor, Sarah's pitch perfect performance as Raquel, the pink and perfect bar-room Barbie who just wanted to better herself, endeared her to a nation of soap fans, and allowed her to plough a furrow as one of our best, and most adaptable talents.
Ioan Gruffudd (Pobol Y Cwm)
This is my favorite: the future Mr Fantastic as a teenager, delivering his reedy lines in the Welsh-language soap that… well it didn't exactly make his name, because Pobol Y Cwm wasn't shown all over the UK, but it didn't hold him back either.
Sean Maguire (Grange Hill/EastEnders)
Yes, HASN'T he grown! Mind you, Sean's first acting job was opposite Laurence Olivier in Voyage Around My Father, so his stint in the schoolyard soap Grange Hill could be considered something of a step downwards.
Anna Friel (Brookside)
There are two things any culturally-aware Briton of a certain age can tell you about Anna Friel, based on her time in Brookie. Number 1: she killed her dad and buried him under their patio (he was a rotter, mind) and Number 2: she did the first ever primetime lesbian kiss on British TV. As an actress, Anna may have gone on to further success in the movies, and Pushing Daisies and whatnot, but nothing can take these monumental achievements away from her.
Ben Kingsley (Coronation Street)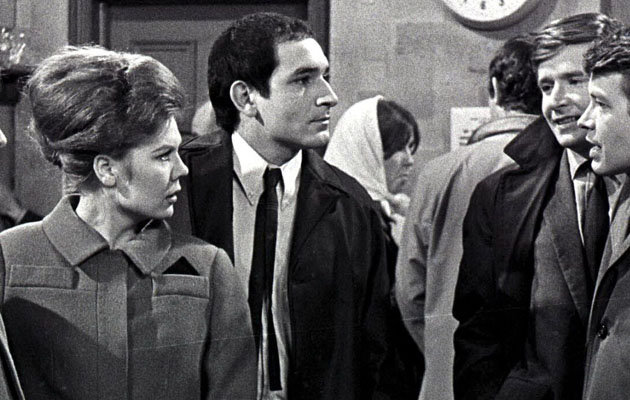 Corrie was very much the making of Ben as a screen actor. He appeared as Ron Jenkins in the soap across 1966-7, and even appeared in a spin-off series called Pardon the Expression.
Martine McCutcheon (EastEnders)
Anyone who watched Love, Actually and wondered about the round-faced Eliza Doolittle that captured Hugh Grant's heart, she was a national obsession in Britain for a while, thanks to some very emotional scenes as Tiffany Mitchell in EastEnders. She even managed a spin-off career as a pop star for a while too.
Speaking of Love, Actually, and Eliza Doolittles, who's this brash urchin? 
Keira Knightley (The Bill)
Her Henry Higgins did rather a good job, don't you think? Although this next lady never needed any such help:
Joanna Lumley (Coronation Street)
Just be glad no-one thought it would be a good idea to make her do a Mancunian accent.
Jude Law (Families)
Families was an attempt by Granada TV to exploit the late '80s/early '90s craze for Australian soaps like Neighbours and Home and Away that had made pop stars out of Kylie Minogue and Jason Donovan. The initial storyline concerned the fallout when businessman Mike Thompson chose to leave his British family to go and live in Australia with his lover, but later storylines included murder, suicide, drugs, adultery, prostitution and mental health issues. Oh, and Jude's not the only one who walked away from this show with an enhanced career, some of the later episodes were written by Russell T Davies.
Let's end with another two graduates of The Bill's accelerated apprenticeship scheme:
James McAvoy
and Russell Brand
Yeah, I miss the beard too.
Read More
Filed Under: