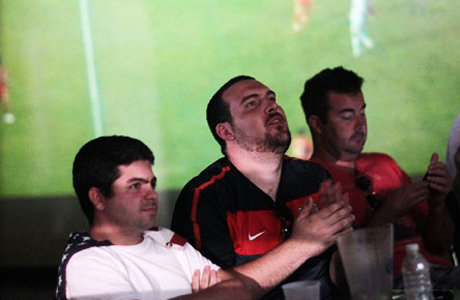 In a recent interview for Mind the Gap, Lisa Powers at Ye Olde Kings Head pub in Santa Monica, California, told us that new-in-town Brits come through the door and ask two things. The first is whether there are any positions open; and, the second is "Where can I catch a game of English football?"
Luckily, her pub offers plenty of soccer — as do many Brit or Irish pubs everywhere — and you're never going to be short of somewhere to watch basketball, baseball and football, sometimes even off-season training and college-level games.
Brits who are fans of the biggest U.K. soccer clubs — Arsenal, Manchester United, Chelsea, Manchester City, Spurs, Liverpool, even Celtic and Rangers — can often see their team on TV (by which I mean satellite and cable) in these expat bars, but what if you support a minnow?
That's any team outside the Premier League, and for me — a lifelong Watford supporter (come on you Horns!) — that means you might get to see one live game a year. If you're lucky. And probably only if you draw one of the big boys in the FA Cup.
As a result, the internet is your friend, both through dodgy streams and your club's own fee-based website Players (such as Watford iPlayer), which offer extra content, highlights etc. Some pubs can be friendly to requests to watch minnow teams though, and if there's no Premier League match scheduled, just ask at the bar; often they might tune a side or small TV just for you.
Watching soccer live in the U.S. is possible, of course. Many cities have their own MLS teams, most with British stars. (David Beckham played for LA Galaxy, which now has Robbie Keane on its roster, and former Arsenal star Thierry Henry plays for New York Red Bulls.) More Brit players are expected to come stateside, and you can find more information at MLS Soccer.
U.S. soccer matches aren't on television as much as other U.S.sports, as there are too few chances for commercial breaks and far less razzmatazz. But Spanish-language stations show a lot, and Fox Soccer is a good place to start — especially if you like Spanish league action — but since the channel will become part of new FXX come September, who knows what will happen then?
Despite being the father of baseball, the most difficult Brit sport of all to find is cricket. Americans often have never even heard of it, and I've heard it called "that English game where they all wear white" or "the game with hoops and hammers," which, of course, would be croquet. And Beckham doesn't play it (cricket or croquet), at least not professionally.
There are many cricket teams and competitions in the U.S., which matches usually based around limited overs or 20/20, but understandably, finding public pitches is often tough. Predictably enough, many teams are often based around places like Los Angeles, Florida and New York, where there are large immigrant populations from all the cricket–playing countries (Australia, New Zealand, South Africa, West Indies, Pakistan, India, Bangladesh and others).
You can find out about cricket ground and maybe watch a live game at ESPN Cric Info while more info is at Cricket Council USA.
Brit teams are thinner on the ground, though (one of them is the Beverly Hills & Hollywood Cricket Club in Los Angeles) and American players are even rarer, though one of the most notable is Compton Cricket Club, a team made of homeless men and former gang bangers from the L.A. suburb.
Sports bars close to cricket grounds might show some cricket live, but again it's cable/satellite that comes to the rescue via the subscription-based Willow TV. Other than that you'll be combing the internet, though of course you can access the BBC's superior live cricket commentary on their iPlayer and settle back with a cup of tea and a biscuit, exactly like millions of fans do back in Blighty!
Read More
Filed Under: