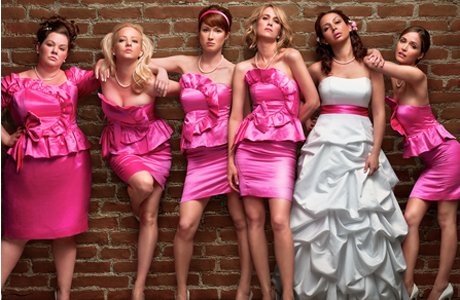 As some Brits discover, there are quite a few differences between weddings back home and weddings in the U.S. If you're involved in one, here are a few things to be prepared for:
"Standing up"
Years ago, a close friend asked me to "stand up" for her at her upcoming nuptials. "Oh Lord," I remember thinking, "What am I volunteering for now?" Fortunately, rather than asking me to back her up in a pre-marital spat, she was asking me to be a bridesmaid. (Of which more below.)
Being a bridesmaid
Fair warning, this can get very expensive. If the wedding is a plane ride away, you'll probably be paying for your flight and hotel accommodation if it's needed. (Hopefully the bride and groom will arrange a discount at nearby hotels, so if they recommend a particular hotel, book it!) You will also probably be paying for your dress, shoes, and jewelry, unless the jewelry is also your bridesmaid gift. On top of that, there will be a shower to attend, and the bride won't be picking up the tab. Bridal showers can be in someone's home but also in a fancy (i.e. expensive) hotel.
If you're asked to be the Maid of Honor (MOH)…
…do yourself a favor and ask for guidance. This role comes with serious responsibilities, and it's all too easy to screw up. Here's advice from The Knot web site: "The maid/matron of honor is part worker bee, part emotional lifeboat. (My emphasis.) Chosen for your energetic, get-the-ball-in-motion qualities, you should also remember that listening to the bride, making her laugh and offering emotional and logistical support are also part of your honor attendant package." Word count prohibits a full description of the MOH duties, but be sure to study it here if you're asked. Being MOH often has a tendency to become a part-time job. Even if you're a lowly bridesmaid, you'll still have a modest to-do list, which you can also find at The Knot's web site.
Being a groomsman
The biggest difference here is that there is often an army of groomsmen and ushers, not just the best man. Ushers typically escort guests to their seats in the church, and groomsmen stand at the altar with the bridesmaids during the ceremony. These titles and roles are often interchangeable so if you're asked to be in the wedding party, make sure you know what is required. As with bridesmaids, grooms and ushers typically pay for the rental or purchase of their suits, and if there is a bachelor party, they foot the bill there too.
Showers
Bridal showers are huge here, and not just your typical hen-party piss-up either (bachelorette party in the U.S). There are gifts to be bought, games to be played and rules to be followed. If you don't believe me, just search "bridal shower etiquette" on the Internet and see what comes up. If you're the Maid of Honor, you have your work cut out, although it doesn't necessarily mean you have to host the shower in your own home. (Hint: if someone else offers, take them up on it.) If you're a guest, note that the bride will open gifts in front of everyone and pass them around, so if you're thinking of purchasing anything X-rated, probably best to think again. Oh, and, according to The Knot, "Even if all the bridesmaids can't attend, they should all contribute to the bridal shower budget."
Rehearsal dinner
This is usually held after the church rehearsal on the night before the wedding. Typically the wedding party (i.e. close family, bridesmaids and groomsmen) is invited, but if people have traveled thousands of miles, they are often included too. If you're invited to the wedding but not to the rehearsal dinner, don't get your knickers in a twist, it's perfectly common.
Wedding day
Even if the wedding is late afternoon or evening, if you're in the wedding party it can literally take all day. The call for a 4 pm wedding can be an ungodly 9 am in the morning, so ask ahead and be prepared. A bridesmaids' breakfast is common, followed by a pre-wedding photo-shoot that means you'll be getting ready hours before the ceremony. Most brides do not get out of the wedding car and walk straight up the aisle like Lady Di and later, Kate Middleton, the Duchess of Cambridge. Many churches and other wedding venues have rooms off to the side where the wedding parties can change and check hair and make-up until right before they set foot down the aisle.
Oh, and if you hear the words "destination wedding" be prepared for major expense, as these are weddings in far flung places like the Bahamas, and they're on the increase.
Caveat: the above points have been verified by at least ten wedding etiquette sources. Obviously there are exceptions, but these are generally held to be the norm.
Read More
Filed Under: