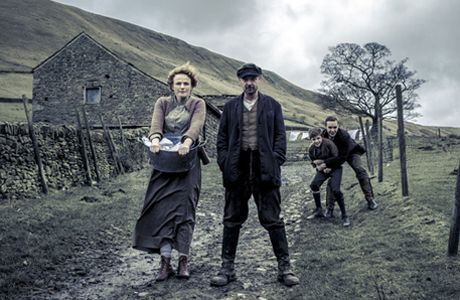 The Village is a new series written by BAFTA winning writer Peter Moffat (Criminal Justice).
What's on: The Village
What is it: This six-part series takes place in a Derbyshire village, in the East Midlands of England, spanning six years between 1914-1920 revolving around the central character 12-year-old Bert Middleton (Bill Jones). We meet an elderly Bert (David Ryall) present day, the second oldest man in Britain, who is being interviewed by a film director. Bert takes us back to life in 1914 to meet his extended family. Bert's biggest concern that summer was learning how to swim by sneaking in lessons between school and working in the fields; while his father (John Simm) is drowning himself with alcohol at the prospect of losing their home and livelihood. World War I has just begun and Bert's older brother Joe (Nico Mirallegro) debates if he will be leaving the family to fight.
Air-date: March 31, 2013 – present on BBC1
Who's watching: 8.17 million Brits
Why so popular: People are drawn to period dramas but this is no Downton Abbey. The camera never leaves the village, documenting life on a working-class farm with The Telegraph applauding its "refusal to foist contemporary relevance on its audience" referring to the historical accuracy like the depiction of servants working in the main house and them turning to face the wall when a house member walks by. Moffat points out that British television has a tendency to tell this story from the privileged perspective but the working class should be recognized as well, telling the Radio Times, "… it's vital not to imbue the past with a kind of Ready Brek glow."
American Counterpart: Little House on the Prairie aired on NBC from 1974 to 1982, telling the story of the Ingall family living on a farm in Walnut Grove, Minnesota in the 1870s and 1880s.
Life is hard in the village but Bert and his family have each other. We get glimpses of what to expect in the series trailer with Bert's father saying, "Must a man pay ALL his life for one mistake?" and young Bert saying to his brother, "You wouldn't leave us Joe?" ending with a marriage proposal. So, it's not all doom and gloom. Watch the trailer, below:
In the first episode, Bert learns his mother (Maxine Peake) is pregnant putting a strain on Joe who is debating leaving home to fight in the war. Joe storms off and his mother follows to plead with him. But, does she plead with him to stay or go? Watch the emotional clip, here.
In the second episode, we find Bert's father, John, stumbling around in the woods apparently inebriated. Rumors start and it gets back to the main house causing some friction. Watch the clip, here.
The Village Facebook page asked for viewers' feedback, here's just a sampling. … look, the show writes back!
To read all 60 comments, go, here.
Twitter fans are chiming in and they apparently you may need some tissues on hand:
@bbcone @john_simm @bbciplayer Loved it so much!! Canny not wait, recorded the whole series, i need tissues though so emotional ;D<3

— i like talking to ya (@LoveCastOfTwi) April 7, 2013
#TheVillage is on tonight. Can't remember the last time I eagerly awaited an episode of a classic drama #bbcdrama bbc.co.uk/programmes/p01…

— creativelycat (@creativelycat) April 7, 2013
Moffat hopes to build on the first season telling The Independent, "We can't make 13-episode seasons (as in America), but you can make six and then another six, if you're lucky, and then another six – hopefully eventually we will have 42 hours of television drama."
We do too!
What do you think of the realness of the storyline? 
Read More
Filed Under: