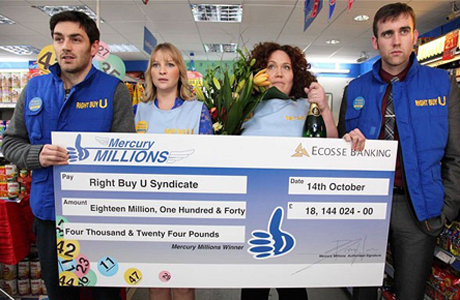 A story about ordinary people thrown into an extraordinary situation.
What's on: The Syndicate  
What is it: Five coworkers join forces, creating a syndicate, and chip in to buy lottery tickets and end up winning £18 million and some change. Each employee struggles with figuring out how to live with their new status in the world. Each episode of the second season follows an individual character allowing the viewer to see the story through their perspective.
Air-date: March 27, 2012 on BBC1
Who's watching: 8.22 million Brits (Season one is available on Netflix.)
Why so popular: Who doesn't daydream about winning the lottery and what they would do with the winnings? This show illustrates it for us daydreamers and it doesn't always end as expected.
American counterpart: Lucky, an HBO documentary examining the seduction of the American lottery system.
The series is now in its second season but let's back track a bit to the series premiere trailer to catch up a bit. Joanna Page (Leanne) and Timothy Spall (Bob) lead an ensemble cast including a grown up Neville Longbottom (Matthew Lewis). We meet Bob early on, when the grocery store they all work at is about to close; and Leanne after the win and her struggling to hold onto her privacy. You can watch the trailer, below:
Okay, we'll leave you to it as you can watch the entire first season via Netflix. So, we'll skip to season two as a sneak peek. In the first episode of season two we meet the new cast. The cast has been rotated out with five new actors, led by Alison Steadman (coincidentally, Joanna Page's castmate from Gavin and Stacey) and Mark Addy, who work at a hospital. Check out there reaction to the big win, here.
The second episode is entitled, "What would you do with £14 million?" The clip is exactly that, the lot talks about what they would do with the money but it doesn't quite sit well with some of their friends and neighbors. You can watch the clip, here.
On the timely nature of the subject matter, Kay Mellor, writer and producer says: "Ordinary people are struggling and more and more of them are doing the lottery for the chance to lift them out of poverty and debt. It's fascinating for me to explore how winning the lottery could change their lives," reports BBC Media Center.
As usual, fans are taking to Twitter to talk about their fave shows, like this tweet:
I said it once, I'll say it again #TheSyndicate is great….

— Emmett J. Scanlan (@EmmettScanlan) April 16, 2013
This viewer talks about the ending, but there's no spoilers. It's good to know they are pleased!
Just watched the final episode of #TheSyndicate – what a great ending!

— Pat Oddy (@rossaverde) April 24, 2013
The show tweeted about "next time" …
We hope to see you all back next time..

— The Syndicate (@BBCTheSyndicate) April 24, 2013
Will there be a season three?
Read More
Filed Under: