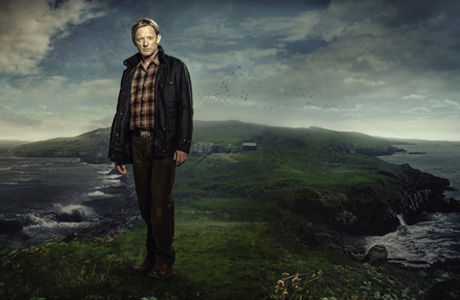 The Brits like their mini-series … this is a mini mini-series!
What's on: Shetland
What is it: Based on the novels of award-winning crime writer Ann Cleeves, the two-part mini-series is set in the Shetland Islands starring Douglas Henshall as Detective Jimmy Perez, who has returned home after being away a while, and is investigating a murder-mystery that has rocked the island.
Air-date: March 10, 2013 on BBC1
Who's watching: 12 million Brits (combined viewership for both episodes)
Why so popular: The Nordic life seems close to perfect where everyone gets along and there isn't a concern in the world. But, nothing is perfect. Two families unravel when elderly Shetlander Mima Wilson is found murdered. One of the families is wealthy and the other one is not. The tension brews a whole bunch of drama.
American counterpart: The TNT TV movie Silent Witness is based on author Richard North Patterson's novel about a defense attorney who returns to his hometown to defend an old school friend now charged with murdering one of his students.
The trailer opens up with a rainbow shining down on the stunning island. Oh, how lovely. This place must be magical, right? Detective Perez is talking to a mate saying, "Most people don't lock their doors and I'd like it to stay that way." … unfortunately, it doesn't.
In episode one, Detective Perez receives a phone call but it's all broken up and he can't completely hear it. But, he gets the important last bit saying, "She's dead." He takes the ferry to the crime scene and finds Mima who was murdered by a shotgun blast up close. This was definitely no accident. Mima's grown grandson found her and asks to cover her up but he can't just yet as Perez needs to collect evidence. Just this quick glance is very emotional. If you like to watch the clip, go, here.
Oooh … this next clip makes you wonder, "What exactly did happen?" Detective Perez goes to question Andrew Haldane who is on an oxygen tank and can barely speak. Haldane's daughter shoos Perez away, making her and her father look guilty even if they aren't. Whoever killed Mimi tried to make it look like a burglary. To watch the clip yourself, go, here.
We aren't the only ones who want to know more. The first two episodes were so popular it was just announced that the crime drama is to return for three more two-part stories, according to BBC News. The new series will focus on Cleeve's remaining novels, Raven Black, Dead Water and Blue Lightning.
Detective Perez tweeted the announcement himself, with this:
https://twitter.com/djhenshall/status/319365271599071232
Author Ann Cleeves tweeted last week that she's working on a new book:
In Brae looking out at sunny water and writing new Shetland book. Good Kindle deal on Raven Black if you want to start at the beginning.

— Ann Cleeves (@AnnCleeves) March 27, 2013
Well, she has to if the series is going to continue, right?
Fans, like this one, are pleased to hear the news:
#shetland to return to #bbc Nice One http://t.co/9TGuXDRggH

— Fiona Stalker (@Fionasstalker) April 3, 2013
If you'd like to backtrack and check out the actual novels, they're available on iTunes.
Do you have a favorite mystery novelist?
Read More
Filed Under: