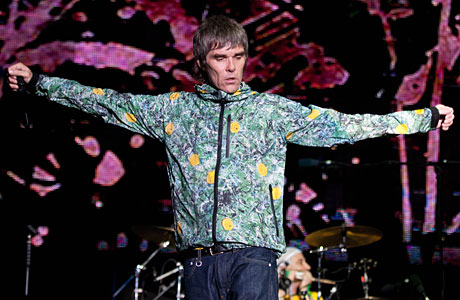 The truly remarkable return of the Stone Roses, British indie band of world-beating proportion (had they bothered to keep going) has been documented in a new film by Shane Meadows, the director of Brit-flicks Twenty-Four Seven, This Is England and A Room For Romeo Brass.
Shane, who considers himself a super-fan of the band, was thrilled to have been brought in at an early stage, when the reunion was still a closely guarded secret. He'd become friendly with singer Ian Brown, and Ian recommended him to the rest of the band.
And now the film is finished, it's called The Stone Roses: Made of Stone, and it's coming out this summer).
Here's the trailer:
In a press release accompanying the trailer, Shane said: "Making this film, I got to be part of something truly remarkable, the double decade awaited 'resurrection' of my all time favourite band, The Stone Roses. People say that you can't recapture your youth, it'll never be the same second time round etc, but that's utter rubbish.
"The Roses were never allowed to reach their peak first time around so as far as I and millions of fans around the world were concerned, with this comeback the Roses could be even greater."
He continued: "This film isn't a history lesson, nor is it a two hour concert film. It is a film about defying the odds, sticking it to the man and telling the cynics to shut their pie-holes!"
Note: you know what "shut your pie-hole" means, right? 
Read More
Filed Under: