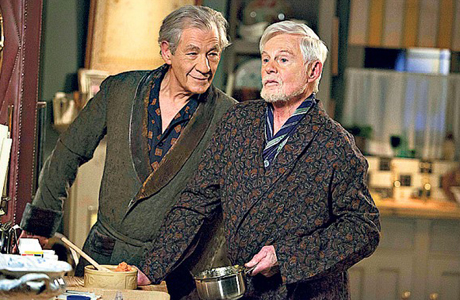 Well, this certainly qualifies as an event: Sir Ian McKellen and Sir Derek Jacobi have done a six-part sitcom together titled Vicious, playing a quick-quipped gay couple who've been shacked up for nearly 50 years. 5.7 million British viewers watched the premiere last night on Britain's ITV, down 3.5 million from the Broadchurch finale which aired in the slot last week, Deadline reports.
Interestingly, this sitcom starring two of Britain's esteemed thespians is written by an American, Gary Janetti, whose credits include Will & Grace and Family Guy. Reviews across the pond have been, well, vicious. The Independent compares the show's live studio audience to "laboratory animals trained to respond to some arbitrary stimulus [who] react to anything that is even vaguely punch-line shaped.This turns out to be quite handy in Vicious, which is full of lines that have the cadence of comedy but often prove to be devoid of wit when examined more closely." Digital Spy writes, "Vicious is not the catty, cutting comedy it could have been – what we have instead is an uncomfortable blend of coarse humor and '70s sitcom-style cosiness," adding, "The only thing holding up Gary Janetti's confused, lazy script is the show's strong cast — far better than the material deserves."
Meanwhile, The Daily Telegraph minces no words in its one-star review, calling Vicious "the least funny new comedy in recent memory." Youch.
Well, here's a clip. No word on when or if the show will land here in the U.S.
Would you watch Vicious? Tell us below:
Read More
Filed Under: