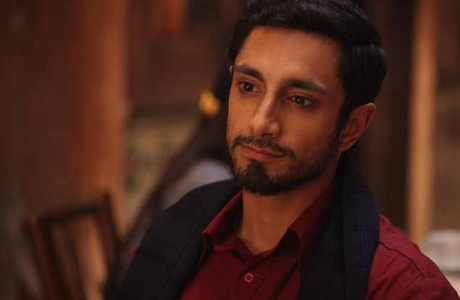 Based on the Mohsin Hamid novel, The Reluctant Fundamentalist is director Mira Nair's latest work and boasts an all-star cast including Liev Schreiber, Kiefer Sutherland, and Kate Hudson. But British actor Riz Ahmed is at the center of this new release that looks at our post-9/11 world.
This isn't Ahmed's first film to depict the struggle against global terrorism: in Michael Winterbottom's The Road to Guantánamo, based on a true story, he played one of three British men who were wrongfully detained at the infamous Cuban naval base, while in the BBC AMERICA miniseries Britz, he played a Muslim MI-5 operative whose sister has embraced a life of radicalism.
The Reluctant Fundamentalist, out tomorrow (April 26), finds Ahmed portraying a Pakistani-born, Princeton-educated Wall Street analyst who — after enduring countless acts of abuse and harassment, including a strip search by airport security — rejects the American capitalist dream and heads back to his homeland. At one point in the film, Ahmed's character reveals that he got momentary satisfaction upon seeing the towers fall on 9/11.
The film arrives on April 25, less than two weeks after the Boston marathon bombings that left three dead and nearly 200 injured. Is Ahmed concerned about the potential challenges of releasing The Reluctant Fundamentalist in the wake of the attacks, with its suspects having been linked to fundamentalism? He tells Anglophenia's Tom Brook: "I think it's incredibly timely, this film, not because of just Boston. I think it's the role of cinema and stories to engage with the big themes and the big ideas of our time. And not to give people solutions or preach at them, but to just ask difficult questions and do it with empathy."
He adds: "It talks about some very incendiary and some very controversial ideas and themes: religious fundamentalism and also capitalist fundamentalism, which are the two dominant narratives of our time, the war on terror and the global financial crisis. And so it touches on them and asks difficult questions, but one thing that everyone seems to walk away with, having seen this film, is the desire to talk about these things."
See more of Tom Brook's interview with Riz Ahmed below:
Read More
Filed Under: