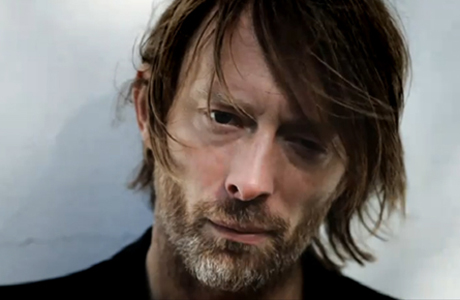 Are you a young person looking for some advice from an adult? Or, even an adult just looking for reinforcement on something you may already know? Well, look no further because Radiohead's Thom Yorke, 44, and his recording engineer pal Nigel Godrich, 42, are grown men who are in the mood to delve out some relationship advice.
The blokes are taking part in Rookie Magazine's long-running Ask a Grown Man series, in which influential men answer questions, pulling from their lives and experiences, sent in from teenagers and young women.
The guys took to Vimeo and read off some questions with the first question being: "How do you tell the boy you have a crush on, that you have a crush on him if you are really, really, really shy and so is he?" The question is from Rose, 16, in Vermont.
Nigel's advice is very carpe diem like, "Sieze the opportunity and don't waste time," which is all-good but may not translate to a teenager as most young people don't have a biological clock ticking just yet. But, Nigel's answer is more tangible and actually helpful saying, "If you are really, really, really shy … which I was at that age. Also, I was at a boys school so it was impossible to meet girls anyway. How about just writing him a note if you can't BARE to talk to him, how about just writing him a note?"
Good idea! He's not suggesting an email but an actual hand-written note which might get the job done. And, as these men have pointed out, they are grown-ups and as a result they think about life before email and Facebook.
The video is approximately 17 minutes long and the the guys field questions about deciphering feelings, combatting shyness, breaking up with someone and body imperfections. Check it out, below:
If you have a question for a Grown Person, please send it to youaskedit@rookiemag.com and write "Ask a Grown Man" or "Ask a Grown Woman" in the subject line, accordingly.
Did you learn anything?
Read More
Filed Under: