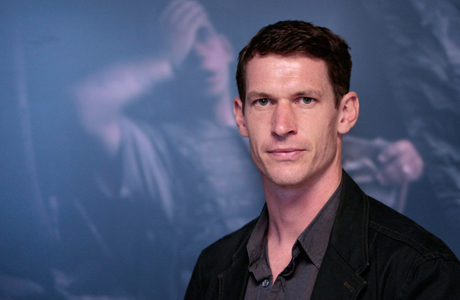 This Saturday will mark a sad anniversary for people in the world of photojournalism because two years ago, on April 20, 2011, Brooklyn-based Tim Hetherington — one of Britain's finest war photographers — was killed while covering the conflict in Libya.
A special documentary tribute to Hetherington is being aired on HBO over the next few days.

Which Way Is the Frontline From Here? The Life and Time of Tim Hetherington has been directed by his former collaborator Sebastian Unger and co-produced by James Brabazon, who had also worked with Hetherington on assignment.
When asked what defined his one-time colleague professionally, Brabazon says: "Tim worked hard. He was a workaholic and a very dedicated, very decent man."
The documentary is a great account of Hetherington's life as a photographer — or "image maker" as he preferred to be called. It's not a deep psychological portrait: Hetherington seemed to be a man on the move, but from what we don't know.
But in the film he emerges as hugely talented, eminently likeable and clearly much admired by his comrades who put this film together. His photographs reflected his humanity.
The documentary is being shown on HBO on Thursday, April 18, Friday, April 19, and Sunday, April 21.
Watch Anglophenia's interviews with Tim Hetherington:
Read More
Filed Under: