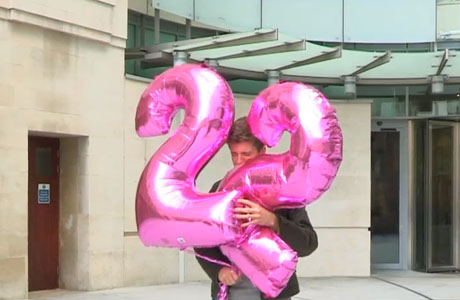 A few months ago Taylor Swift's song "I Knew You Were Trouble" was parodied with the  screaming goat. Some Whovians even jumped on the bandwagon and replaced the goat with a Dalek. With her recent single "22," even more parodies are emerging featuring different ages. BBC Radio 1 host Greg James created a parody of the song but stayed with the age 22.
Swift's song glorified an age that usually gets no recognition in society. As someone who recently turned 22, I realized why this age isn't glorified. There is nothing special about it. And there is nothing wrong with that. With Swift's song, though, it gave hope that the age has so much more to offer. Wrong.
For those of us in the United States, college graduation usually accompanies the age of 22. This means that we have to find a job and support ourselves. While I could not wait for this at the beginning of college, now it all seems daunting and a bit nerve-wracking. James' rendition of the song does a perfect job capturing these feelings.
Let's take a look at some of his brilliant lyrics.
"It feels like the perfect night to sort out my odd socks."
Yep. 22 is the age where you stay home on the weekends to do laundry instead of going to the club.
"Mom, I miss you. I can't iron my shirts … the bathroom's covered in muck. Sometimes I forget to wake up."
Remember those days when mom used to do your laundry and iron your shirts? How about when she cleaned the house, including your bathroom? What about the times when she woke you up in the morning to make sure you weren't late? Yeah…I miss those days too.
"I'm feeling sad tonight. I miss my uni friends."
Okay, so I haven't graduated from the American equivalent of "uni" yet, but I understand his point. I mean, how does one even make friends without the social constructs of the education system?
"Instead of sleeping, I end up tweeting."
#22probs
"Students all think that I'm old."
This echoes the first thing I heard when I turned 22.
"I don't know about you. I hate being 22."
Let's just say that I have yet to feel the magic that Swift mentions in her song, and I definitely have not forgotten about the deadlines. Oh, and sleep has taken precedence over going out …thanks Taylor.
Instead of letting the age of 22 slip by unnoticed, T-swift drew hopeful attention to it. James does a hilarious job at reminding all why 22 does not deserve said attention.
Disclaimer: James is actually 27 years old. Now you don't have to feel crappy about another 22-year old landing a job with BBC Radio 1 while you sit on the couch and eat crisps.
Read More
Filed Under: