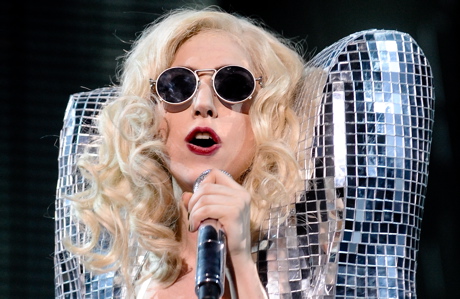 Lady Gaga has been eagerly watching boxed sets of Top Gear as she recovers from hip surgery, reports The Sun.
The pop megastar has apparently gone gaga over the show.
The tabloid says that the singer's boyfriend, actor Taylor Kinney, had become "hooked on the antics" of the program and gave her seasons to watch during her convalescence.
"Gaga doesn't even watch TV usually but she's always loved everything British, so she loves the jokey chats that the presenters have," said a source, according to The Sun.
"Plus she started to learn to drive last year," continued the source, "so she actually understands a bit about cars now. She and Taylor watch episodes most nights because she isn't ready to be out and about just yet."
Might we see her in a Reasonably Priced Car one day?
• Of course, Lady Gaga is joining a long line of celebrity fans of Top Gear. One of the others, who has in fact been a Star in a Reasonably Priced Car, is Tom Cruise, who this week released an extended cut of his Jack Reacher car chase scene exclusively to TopGear.com.
"This was not the work of doppelgangers," writes the website. "Cruise did all the driving himself."
Take a look:
• Tom Cruise is such a big fan of Top Gear that he went out of his way at Jack Reacher's London premiere to make sure he spent some red carpet time with special guests James May and the Stig.

• Speaking of the Stig, we know that he was in Zandvoort, Holland earlier this year to prepare for this weekend's Top Gear Live event, which will be taking place in Amsterdam on April 27. It was, in most respects, a typical Stig visit: his car moved, while his lips did not. Of course, that didn't stop people from trying to get any biographical tidbits they could about the secretive racer in white: 
• James May continues in his quest to rekindle our creativity. In the third episode of season two of James May's Man Lab (premiering Monday, April 29 at 10pm/9c) our intrepid host takes to a fashion catwalk, comes up with a way to cheat at playing the guitar, and figures out how to send the ashes of his dead pets into the stratosphere.
• We don't know whether NASA follows James May's stratospheric burial attempts, but our colleagues over at TopGear.com suspect that the American space agency is watching Top Gear.
Why?
Because this week NASA posted a photo of the tracks that the Mars exploration vehicles Spirit and Opportunity made on the red planet's surface and TopGear.com suggested that they bore an uncanny resemblance to the tire tracks left by Top Gear's hosts on their most recent trip to California.
If you'll remember, the marks were determined to look like a "gentleman sausage."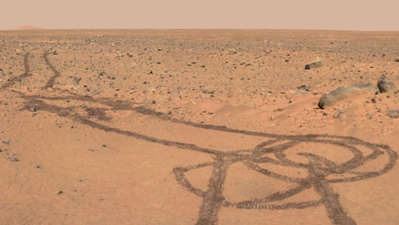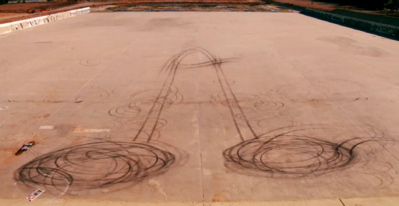 —————————————————-
What does your sophisticated scientific analysis tell you?
—————————————————-
Read More