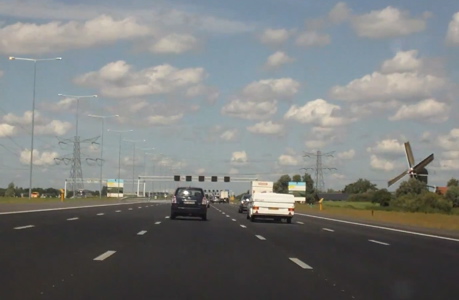 Who says cops don't have a sense of humor? A Dutch policeman thought it would be a great April Fool's Day joke to announce that a major highway between the country's capital Amsterdam and the city of Utrecht would be closed. His inspiration was Top Gear, and he said the reason for the road closure was that the show would be filming a challenge there.
It was all a prank, and a Dutch police spokesman, according to the Independent, said it was perpetrated by "a single colleague who did not think about the possible consequences."
The lone law enforcement officer posted an announcement on the official police website stating that Top Gear would close down a 20-mile stretch of the roadway so that the program could try to break the world speed record of 286 miles per hour.
The posting apparently remained on the website for more than an hour before it was taken down but managed to create disruption among holiday travelers. We should mention that the road in question, the A2, isn't just any ordinary highway, it's a massive ten-lane superhighway. Here's a video should give some impression of what the A2 is like:
We don't know whether the Dutch cop kept his job or not. The stunt reminded us of a famous Candid Camera segment, where the show told highway motorists entering Delaware to turn around because the state was "closed."
http://youtu.be/oU1MkFSUG2A
• Speaking of closing down roads, Range Rover managed to shut down a busy stretch of New York City's Eighth Avenue so that Daniel Craig could show off the new Sport in the run up to the Auto Show, which is where much of the big news in the automotive world is emanating from this week.
With the introduction of the new Range Rover, as well as other British car news, TopGear.com wrote of the U.K.'s auto industry as it's represented at the New York convention: "In this corner of the Big Apple, a small soggy island far across the Atlantic was generating more buzz and headlines than all America's 'Big Three' could muster between them."
BBC Autos offers special New York Auto Show coverage as well.
• Just when you thought that the video game Forza Motorsport couldn't get any better, it does — and it's thanks, of course, to Top Gear. That's right, the April Top Gear Car Pack for Forza Horizon has just been released and it features six new cars. (Via Video Gamer)
• Most of the time, when you watch Top Gear, the words that should be emblazoned on your brain should be: "Don't try this at home." Well, in this web-exclusive clip, the hosts of the American version of Top Gear, give driving advice.
• Here's some dramatic drag racing footage from Down Under. National Hot Rod Association three-time champion Larry Dixon's racer broke an axle just as the race began at Australia's Willowbank Raceway. Dixon was sent into a 360-degree turn.
Amazingly, not only was no one hurt, but TopGear.com pointed out, the car was repaired and Dixon "clocked a 4.68-second pass and set a new national record."
• TopGear.com also pointed out an important British automotive anniversary. The Vauxhall 30-98, Britain's first 100 mph car, was introduced 100 years ago.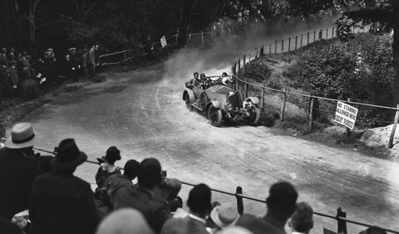 • Coming up on BBC AMERICA, the premieres of two Top Gear specials: the Best of 2012 and 2013, which air on April 15 and 22 at 9p/8c.
Here's one video clip you won't find on the shows — because it's a behind-the-scenes look at a series 18 guest spot. Lotus' Kimi Raikkonen, a world champion race driver, took the show's challenge in a reasonably priced car.
Read More
Filed Under: