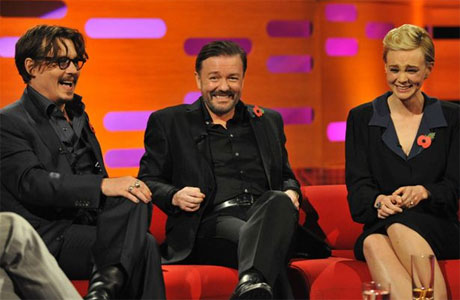 Big news! The Graham Norton Show is now airing on Thursdays (at 10/9c) on BBC AMERICA.
And to celebrate the return of an old friend (and his reclining chair), we've run some stats, crunched some numbers, and come back with a definitive list of the most popular guests he's had on his sofa over the last 13 seasons.
And our hallmark of quality is the invitation to make a return visit, and then another one, and then another one.
Here's the countdown:
In joint fifth place with four visits each:
A disparate group. We have unctuous talent show judge Louis Walsh, agreeable movie star Minnie Driver, Catherine Tate (you know who she is), Miranda Hart (ditto), and the ever-unbelievable Miriam Margoyles.
G'wan Miriam, give everything hell:
In joint fourth place with five visits each:
Startlingly, this is a far more unified group. Let's call them 'Comedians Of A Certain Vintage.' It's a group that includes Jo Brand, Dawn French, Alan Davies, Ed Byrne, Jimmy Carr and Matt Lucas, the booking of any one of whom can make up for the mumbling monosyllables of two average movie stars.
In third place with six visits:
Joan Rivers. Commence monologuing, Joan:
http://www.youtube.com/watch?v=leFWoWne2jc
Also in third place, but somehow second place too, because this is a countdown and it makes it neater:
Ricky Gervais, who manages to be both self-depreciating and egotistical at the same time, especially when put next to Hollywood royalty:
http://www.youtube.com/watch?v=d4Ee6GwIas4
And Graham's most frequent flyer, with six visits, is: 
Sandi Toksvig: because sometimes you need someone who knows a bit of Danish:
Who's your favorite guest? Tell us here, by writing "Miriam Margoyles" in the text box below:
Read More
Filed Under: