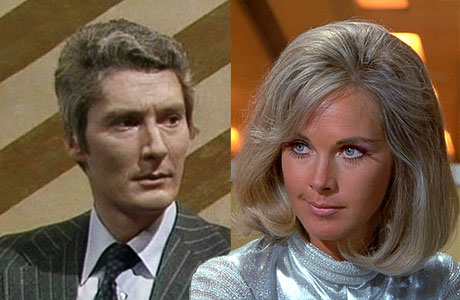 As any Sheen, Redgrave or Baldwin can tell you, it's not that uncommon for actors to have families with other actors, and for those children to go on and become actors themselves. And in a profession that is notorious for waspish jealousy and intra-familial bickering, what's remarkable in the case of Benedict Cumberbatch is that his parents, a well-respected thespian couple who put bread on the table from years of theatre work and not-quite-headline-but-still-it's-a-wage-eh? roles are entirely aware that their only child is some kind of mutant super-thespian, and they couldn't be prouder.
Let's start at the beginning, with Timothy Carlton, an actor of some aristocractic bearing, and Wanda Ventham. Wanda is from the same acting generation as the Dames Judi Dench and Diana Rigg, but had to turn down the chance to work at the Royal Shakespeare Company, her big break in theatrical terms, because she was pregnant with Tracie, Benedict's older sister (from a previous marriage).
Nevertheless, both are sought-after actors, known for doing a good job and go on to decent careers appearing regularly on stage and across a huge variety of British TV shows, from Doctor Who to Heartbeat to Only Fools and Horses, even when young Benedict (whose middle names are his father's stage name) comes along.
Here's Wanda, appearing in the Doctor Who story Image of the Fendahl:
And here's Timothy, as the former Count de Beaulieu, about to go to the guillotine in the 1982 adaptation of The Scarlet Pimpernell:
In a 2010 interview with the Sunday Times (sadly paywalled, but recreated here), Benedict spoke at length about his parents, and their influence on his career choices. Not least their efforts to show him how fractious an actor's income can be.
He said: "At 15, they kept saying, 'Look at us, how out of control our lifestyle is, how money's a huge ebb and flow.'"
Not that they begrudge him his career now. In fact, of the two parents, it's probably Timothy that has the greater emotional investment in his son's talent. Or at least, he makes more of a fuss, and it's nothing to do with success, as an early response to Benedict's college turn in Glengarry Glen Ross proves:
"After the show he told me I was a better actor than he had ever been or would ever be. He was tearing up as he was saying it."
And he still does. "Mum gets a bit emotional on first nights," Benedict continued, "but Dad… he started to weep at the first night of After the Dance [at the National Theatre] when he was telling me how proud he was. I didn't know what to do. I just held onto him. I said, 'You're not crying out of relief that I got through it, are you?' And he said, 'No, you stupid boy. I'm crying because you were so wonderful.'"
So yes, Benedict is a chip off the old block, just as Mozart was a chip off the old block, but with none of the attendant parental grief that the boy genius had to put up with.
So here, as a final tip of the cap for a job well done, are the both of them, playing a couple off on a camping trip with Penelope Keith and William Gaunt in the BBC sitcom Next Of Kin.
*hearty handshakes all round*
Read More
Filed Under: