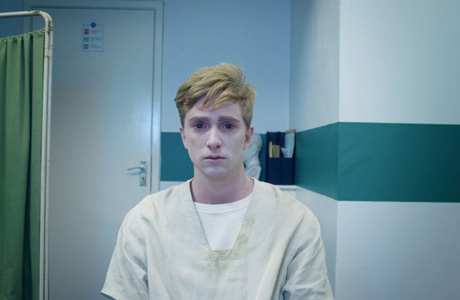 BBC AMERICA is set to premiere the final season of Being Human on June 8 in Supernatural Saturday, with the much-talked about three-part zombie miniseries In the Flesh launching on August 3. Both are BBC AMERICA co-productions. Here's the network's full press release, which went out today (April 4):
BBC AMERICA announced today the channel will premiere new co-production In The Flesh and the final season of the hit original Being Human series this summer as part of Supernatural Saturday.  The new three-part drama, In the Flesh, created and written by Dominic Mitchell, is set after a zombie uprising where treated zombies are rehabilitated back into society. The upcoming co-productions announcement was made following the successful launch of the channel's new Supernatural Saturday line-up with new episodes of the Peabody-winning series Doctor Who, new original series Orphan Black and new original series The Nerdist.

Richard De Croce, SVP Programming, BBC AMERICA, commented: "We are excited to again be working with the BBC on creating world-class supernatural series.  We are building our Supernatural Saturday programming block as the premiere destination for what our audience loves – bold and original storytelling in a genre that transcends borders."

NEW CO-PRODUCTION:

IN THE FLESH (3 x 60) – US PREMIERE

In The Flesh is a BBC Drama Production North co-produced by BBC AMERICA. The series follows zombie teenager Kieren Walker (Luke Newberry) and his reintegration back into both the local community and the heart of his family. After his suicide four years ago, his friends and family thought they'd never see Kieren again. But then, shortly after his funeral, thousands rose from the dead; and after months of re-habilitation and medication, the zombies, now known as PDS (Partially Deceased Syndrome) sufferers, are gradually being returned to their homes. When Kieran returns, he is forced to confront his family, the community that rejected him and haunting flashbacks of what he did in his untreated state. Jonny Campbell is director, Ann Harrison-Baxter is producer and Hilary Martin is executive producer. In The Flesh premieres Saturday, August 3, 10:00pm ET/PT as part of Supernatural Saturday.

RETURNING CO-PRODUCTION:

BEING HUMAN (6 x 60) – US PREMIERE

Being Human is produced by Touchpaper Wales, a Zodiak Media Company, for BBC Cymru Wales and BBC AMERICA. In the final season of BBC AMERICA's hit original Being Human series, ghost Alex (Kate Bracken) is adjusting to life after death with werewolf Tom (Michael Socha), but vampire Hal (Damien Molony) is in hell. Not because he's chained up like an animal, but because he's desperate to clean up the messy house. When Tom and Alex decide to set him free, Hal's wracked by uncertainty… can he control his bloodlust? Things get complicated with the return of Mr. Rook, the shady figure whose government department protects the world from supernaturals. Having been fired from the café, Hal and Tom find new employment at the Barry Grand Hotel, home to poisonous pensioner Captain Hatch (Phil Davis). Unknown to our trio, his decrepit exterior hides an ancient evil that threatens not only their friendship but also the entire world. Lead writer is Toby Whithouse (Doctor Who, Torchwood) and the fifth season is produced by Polly Buckle. Executive producers are Toby Whithouse, Rob Pursey and Philip Trethowan, Touchpaper Television, and George Ormond for BBC Cymru Wales. Being Human returns Saturday, June 8, 10:00pm ET/PT as part of Supernatural Saturday.
Read More
Filed Under: