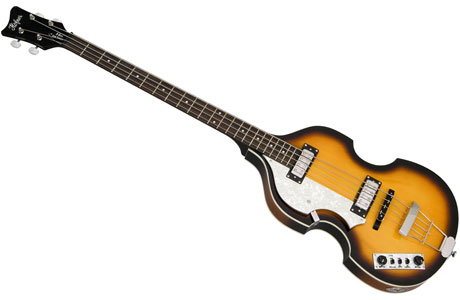 Note: these aren't British instruments. In fact there aren't many, if any, musical instruments that could be said to have definitely had their sole origin in the British Isles, although bagpipes come close. No, this list pays tribute to the instruments (and their amplification systems) that became iconic by being part of the British rock explosion of the '60s and '70s. Instruments that you can hardly pick up these days without being aware of their hallowed past.
And they're not THE six instruments either. We could just have easily have picked Ringo's 4-piece Ludwig drum kit, Brian Eno's VCS3 synthesizer, or Hank Marvin's salmon pink Fender strat.Pete Shelley from Buzzcocks even had a cheap Starway guitar that had its top half missing, perfect for punk rock.
But those are stories for another day. Here's our top six:
Hofner violin bass
http://www.youtube.com/watch?v=CZlOgwV3gvc
Nothing says Beatlemania like Paul McCartney's left handed violin bass, which is down to two factors: the close relationship between Sir Paul and his ever-present instrument during a period where his every move was captured on film and pored over, and the fact that no one else has used a Hofner violin bass to an even vaguely comparable degree of recognition, and if they did, you'd have been safe in assuming it was some kind of Beatle tribute anyway. Bought because it was lighter than a Fender equivalent, and because it didn't look too weird having been turned downside-over, this is the instrument that Beatle tribute acts the world over HAVE to get right, or they risk being mistaken for Gerry and the Fakemakers.
Gibson Les Paul Standard, sunburst finish (1958-60)
Talk to a guitar aficionado about these instruments and they may begin to moisten at the mouth. The guitars made by Gibson at the tail end of the fifties, appear to have been fitted not just with frets and machine heads and pickups and whatnot, they were also packed with magic. And the weird thing is, this magic wasn't even apparent until years later, when Eric Clapton plugged his guitar into a Fender Bassman amp and turned it up very, very loud. A monster emerged, perfect for the blues, and it's no coincidence that every British guitar hero on the list – from Peter Green to Jimmy Page – soon had one of their own. Jeff Beck loved his so much that, when asked to smash his guitar, Who-style, for the Yardbirds' appearance in the film Blow Up, he flatly refused acting as though it was an impertinence to have even been asked, and huffing something like: "it's a '58 Gibson, man!"
The tea-chest bass
I could just as easily have picked the washboard, as played with thimbles,  but that's less an instrument, more a kitchen implement with benefits. The tea-chest bass may have been made from bits and bobs you could fairly easily get hold of (I've no idea where you'd get a tea-chest in 2013. I expect it's all done with bags these days), but it was a recognisable musical instrument when finished. Nail a broomstick to one corner, and tie some string to the opposite one, then find a local skiffle group – of which there were many in the late 1950s – and begin plucking. Lonnie Donegan gets the credit for this, and the washboard, but, good as he was, his bass player used an actual bass, so let's give credit where it is due – to all the dads who had to lug a hefty wooden box home from work, just to keep their kids happy,
The Vox AC30 guitar amp
Not just the Beatle amp of choice, but also Brian May of Queen's particular favorite amplification system. He has a wall of them, of course.
See also: the Marshall stack
Premier Drums
http://www.youtube.com/watch?v=OmkBE-sSX_M
As used by Keith Moon, who had a special set made with union flags, pin-up girls and the legend  "patent British exploding drummer" around the shells. Ringo may have loved his mother-of-pearl Ludwigs, Charlie Watts may have preferred his old Gretsches, but these were expensive and comparatively rare instruments for careful and dedicated players. Keith did a very different job, and the cheaper, more available British brand were perfect for his needs.
The Mellotron
Man-handled by the Beatles in their psychedelic pomp, then seized upon by every prog-rock band that had to try and replicate the sound of a full orchestra without necessarily being able to pay for such extravagances, playing this early sampler (pressing a key would pull a length of pre-recorded tape, with the sound of a particular instrument on it) must have felt like driving a car after years of horses. Not necessarily better, but definitely new. Of course nowadays you can get a fully-sampled Mellotron on your smartphone, which, if nothing else, does save on roadies.
Which instruments would you add to the list? Tell us here: 
Read More
Filed Under: