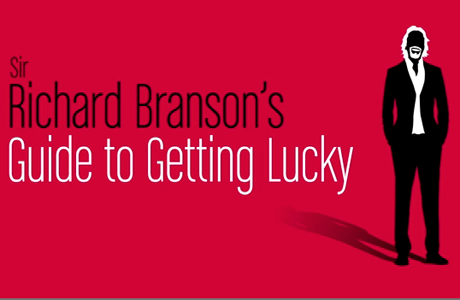 Sir Richard Branson, Virgin mogul, has released a video entitled, Sir Richard Branson's Guide to Getting Lucky. Oh my, he doesn't mince words, does he?
Branson talks to the camera, explaining how the in-air matchmaking works, accompanied by the quirky Old Navy-like commercial music.
Branson suggests to passengers, "Try treating her … or him … to something delicious, using the new seat-to-seat feature, the Virgin America in-flight entertainment system."
He explains what your options are, with, "Just order a drink. A meal. Or snack. Select his or her seat and don't forget to seal the deal by suggesting a seat-to-seat chat."
He's not a betting man but he predicts you have a good chance of departing the plane with a plus one.
You can watch the video for yourself, below:
Getting a drink from a stranger could be nice or creepy depending on whether it's welcomed or not. It's one thing if it happens in a bar, but a plane? You can't leave. What if some admirer from a few seats back orders you a meal (wait, Virgin America serves food, no one else does) and you already have a meal. Do you have to eat both to be polite? That has Bridget Jones written all over it.
Even worse, what if you fancy a guy or gal and you send a treat over and you mistype the seat number. That would be hard to explain, "Psst, psst. Yes you. That's not for you. Can you please pass it to the handsome gentleman to your left. Thaaaaaaanks. Wink. Cheers!"
Then there's the added pressure of, "Man, what if no one sends me a drink?" Do you succumb to sending yourself a drink to "save face" but of course the flight attendants would surely know. "What? WHAT a surprise! Who could have sent this? I am soooo flattered." Sip. Sip.
Alas, there's really no reason to fret, it turns out this is only happening on the Los Angeles to Las Vegas route for now. Shocking, people drinking and flirting on the way to Las Vegas?
What do you think of this idea?
Read More
Filed Under: