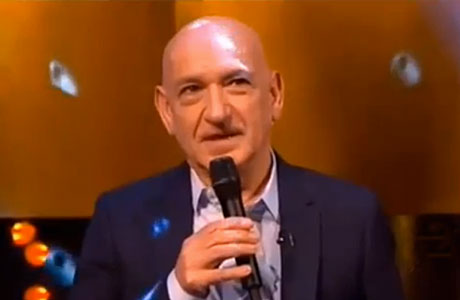 Sir Ben Kingsley should watch out. He's famous for playing grumpy men (Hugo), stoic men (Schindler's List) and unbelieveably terrifying men (Sexy Beast). What he is perhaps not best known for is making public displays of affection in song, and I worry that one look at this clip will spoil his career forever.
So before you watch Sir Ben sing "What A Wonderful World" to his wife Daniela, and his four children; Thomas, Jasmine, Edmund and Ferdinand, just as he did on The Jonathan Ross Show over the weekend, maybe it would be an idea to watch him at work in a clip from Iron Man 3, in which he plays a rotten baddy called The Mandarin:
http://www.youtube.com/watch?v=qBgH1aEtLaY
Got that? He's a BAD, BAD MAN. He's going to BAD, BAD THINGS, because he LIKES IT. That's just the kind of man he is. He is NOT, repeat NOT lovely.
Whatever you do, do not be swayed by this little introductory speech Sir Ben gave to Jonathan, just before launching into song:
"My son Edmund was married recently and I've acquired the most wonderful daughter-in-law and part of their wedding service was this song that Louis Armstrong made famous called "It's A Wonderful World"  [music pedant note: "What A Wonderful World"] and we all sang it at the wedding and that's why I want to sing it – to bless them in their new marriage."
http://www.youtube.com/watch?v=ysJZAodwxNs
He's evil, I tell you. EVIL!
The whole interview, from start to finish, is here:
http://www.youtube.com/watch?v=Y9eAR05gnsY
Iron Man 3 will be in theaters from May 3.
Read More
Filed Under: