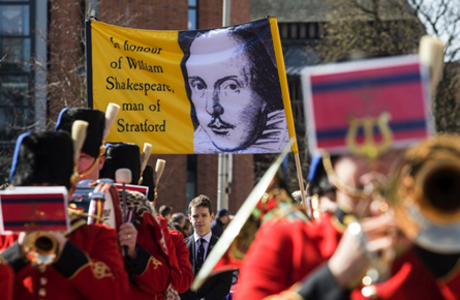 Poet and playwright William Shakespeare is celebrated on April 23 each year, affectionately known as Shakespeare Day, and while today is not a bank holiday (people don't get the day off of work) in the U.K., it is indeed nationally observed. Why April 23? He was baptized on April 26 in 1564 but the actual date of his birth is not confirmed. He died on April 23, 1616 and this stands as the day to recognize him as a man, a Brit and a writer.
He's not only made a mark on the literary world but Anglophenia itself. Here are some of our more popular, and even controversial, posts:
1. First things first, Fraser McAlpine walks us through the language of Shakespeare in the post: How Did Anyone Understand Shakespeare at the Time? Words that are common day now, were basically another language to audience members at the time because Shakespeare … well, made them up. Shakespeare's new vocabulary slowly made sense to Elizabethans as his productions were performed over and over and the new words progressively made their way into regular conversation. There's even a Facebook page dedicated to talking like Shakespeare, here.
2. Entire courses are dedicated to reading, analyzing and understanding Shakespeare's works. Understandably, you may not be keen to sit down to a four-month session. Filmmakers seem to be in on that and do the work for us, making Shakespeare's stories viewer-friendly by giving them modern makeovers. Leah Rozen takes a peek at Shakespeare with a twist, in the post: Five Youthful, Offbeat Movie Adaptations of Shakespeare. Joss Whedon (The Avengers) apparently got the memo; he filmed his version of Much Ado About Nothing (June, 2013) in 12 days, in and near his Santa Monica home. A new trailer was just released today (do you think he knew it was Shakespeare Day?). Check out the trailer, below:
3. Speaking of adaptations, some amazing talent have stepped into Shakespearean roles including but not limited to Dame Judy Dench, Kenneth Branagh, Emma Thompson, Ian McKellen, Dianna Rigg, Sir Laurence Olivier and Ralph Fiennes. It was recently announced that Orlando Bloom will be making his Broadway debut as Romeo in the theatrical production of Romeo and Juliet (August, 2013). There isn't enough room to mention all the brilliant performances but we'd like to highlight Anglophenia fan-favorites David Tennant and Catherine Tate who performed opposite each other in Much Ado About Nothing. Fraser had the chance to see the performance himself and wrote about it in the post: David Tennant and Catherine Tate's Shakespearian Romp: Any Good? 
4. There is little documentation on Shakespeare's life in general nor are any of his works in his own handwriting, which leaves a lot of questions unanswered. Paul Hechinger takes an exhaustive look at his background in the post: Did Shakespeare Really Write His Plays? A Few Theories Examined. At first glance this title may seem a bit harsh, especially with it being Shakespeare Day and all, but we have a cheeky feeling that Shakespeare himself would relish in the fact that people are taking such an in-depth look at him. Shakespeare even writes about rumors in Henry IV, "Rumor doth double, like the voice and echo,/The numbers of the feared," meaning rumors may be exaggerated and become larger than they are.
5. On a somber note, April 23 is the day Shakespeare passed away and his place of rest is featured in the post: PHOTOS: Ten Famous Graves with a short description saying, "The wordsmith behind those timeless sonnets and plays is buried in his hometown church, the place where he was baptized as a child. His grave is notable for its stern warning, inscribed on a stone, "Blese be ye man yt spares thes stones/And curst be he yt moves my bones."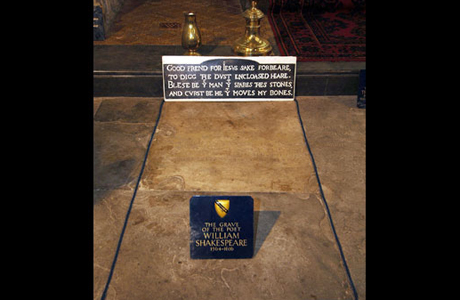 Any plans to celebrate Shakespeare Day?
Read More
Filed Under: