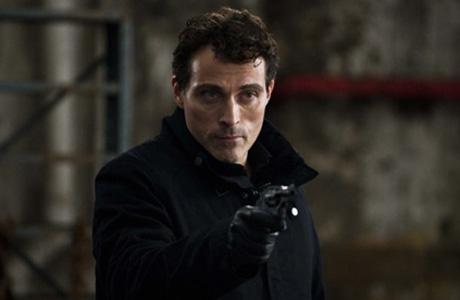 Rufus Sewell (Parade's End, Paris, je t'aime) bit the bullet and made the official move to the U.S. committing to LA and soon after he started getting more interest from the UK, reports The Mirror.
Sewell is on the set of his new film All Things to All Men co-starring Gabriel Byrne. The film revolves around a detective (Sewell) staging a bank robbery with a little help from safecracker (Toby Stephens) and London crime lord (Byrne).
At the time of the interview, Sewell was bundled up trying to keep warm outside the Battersea Power Station, located on the south bank of the River Thames, in Battersea, an inner-city district of South West London. … it is quite a striking difference in backdrop from the life in la la land in LA.
Sewell recognizes the irony saying, "'Since the moment I decided I'll stay in LA, the interest in England has sparked up. I've actually done more work for the BBC in those four or five years than I had done in the 15 years previously."
Isn't that always the case, people want what they can't have? … or even worse, what someone else has?
Well, there's enough of Sewell to go around. He tries to balance his choice of roles saying, "As far as I'm concerned, the idea of just playing bad guys is boring. But, if I played a good guy in the interim (he laughs to himself), then I'd change my mind. A few years ago I said I didn't want to do period dramas or play romantic leads but I'd love to do that now. I just change my mind. But, certainly, just a career of playing one-note villains is not an interesting career for me."
He goes on to describe the current rogue cop character he's playing, saying, "This guy felt equally different to anything I've ever done because he was from London and it was in a modern British film, with a London accent. Which for me, it was different than anything I had ever done."
You can see the full interview, here.
Check out the trailer for the forthcoming film, below:
Do you think him living away from home made the UK a jelly belly?
Read More
Filed Under: