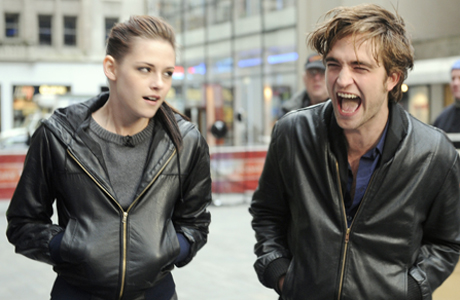 Robert Pattinson, 26, seems to be over the 2012 drama and is so into Kristen Stewart again that he laid down $30,000 on a gift for her 23rd birthday on Tuesday, reports Marie Claire UK.
What was it? … a car? A trip? Oh, don't be silly, those would be frivolous purchases.
It was a pen! Yep, a pen. Because, yaknow, Stewart is known for her prolific writing. Actually, who knows, maybe she is in the middle of writing a novel and we just don't know it yet.
Okay, has the sticker shock warn off? You can lift your jaw off your desk — it's not just any pen. It's a limited edition Bentley fountain pen made out of white gold. The barrel is identical to Bentley's dashboard used in their earliest car. There are only 40 of these pens in the entire world making it a collector's item.
So, yeah, it makes more sense now, right?
What would you spend $30,000 in spare change on? 
Read More
Filed Under: