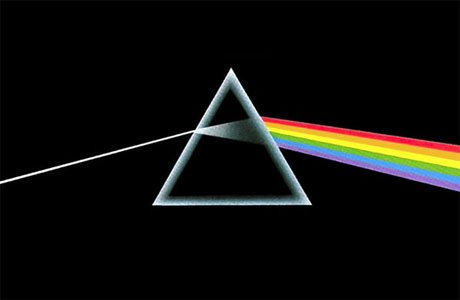 It's a mark of the strength of vision in the graphic designer Storm Thorgerson's work – both solo and with the design collective Hipgnosis – that the news of his passing should have created waves of sympathy from rock fans all over the world. The designers of album covers don't usually get that kind of attention. In fact, there's only really Peter Blake left – the man who made "Sgt Pepper's Lonely Hearts Club Band" – who could.
A childhood friend of Syd Barrett and Roger Waters of Pink Floyd, Storm really made his name creating fantastical and arresting photographic tableaux – without the aid of Photoshop, it has to be emphasised – in which strangely threatening things happened. Ironically, his most famous creation, the cover of the Floyd's "Dark Side Of The Moon" was entirely different: a graphical representation of a prism breaking light into its component colours.
It's an image that needs no explanation, despite there being no band name, no details as to what musical delights may be contained within the gatefold sleeve, and no moon on the cover. That's the cover of "Dark Side Of The Moon." It just IS.
So, to pay tribute to the man whose art was every bit as loud as the music it gift-wrapped, here's the rest of his Top 10, with "Dark Side…" at the eternal No.1 spot:
Phish – "Slip, Stitch and Pass"

The classic Thorgerson landscape shot: a sole observer or participant is shown at a moment of interaction with something large, unlikely and oppressive. And there's a pun about a sweater in there too, if you look hard enough and long enough.
T-Rex – "Electric Warrior"

A cover image that not only illustrates the title perfectly, but also neatly summarises everything that is great about Marc Bolan and T-Rex – a shining star in a black world.
Peter Gabriel – "Peter Gabriel"

A moment of meta from Peter for his second eponymous solo album. He's destroying the photo as it is being taken! Whoah!
Audioslave – "Audioslave"
A Promethean landscape, only this time the fire is made out of gold.
Biffy Clyro – "Puzzle"

A puzzle indeed. If those guys in the corner slam that door, will the man on the chair fall apart?
Led Zeppelin – "Houses of the Holy"

Interesting fact: there were actually only two children on the Giant's Causeway in Northern Ireland that day, and one of them is now the well-known BBC presenter and food expert Stefan Gates.
I mean he was Stefan Gates then too, just less of a TV expert.
The Cranberries – "Bury The Hatchet"

A variation on the theme, in that this time the sole observer (naked, of course) isn't doing the looking. That job is being covered by the enormous flying eye.
Muse – "Absolution"

Another paranoid landscape, another sole observer to a physically unlikely phenomenon.
Pink Floyd – "Wish You Were Here"

Let's leave where we came in, with the follow-up to "Dark Side Of The Moon." Storm created this toxic handshake – in the back lot of a Hollywood studio – to represent the increasing unhappiness of Floyd songwriter Roger Waters with the business side of being in a band. Despite being widely considered the cover shot, this image first appeared behind a black plastic wrap that depicted a similarly cold grasp between two robot hands. It was a paranoid time.
Read Pink Floyd and David Gilmour's statements on Storm's death.
Which album cover would you add to this list? Tell us here…
Read More
Filed Under: