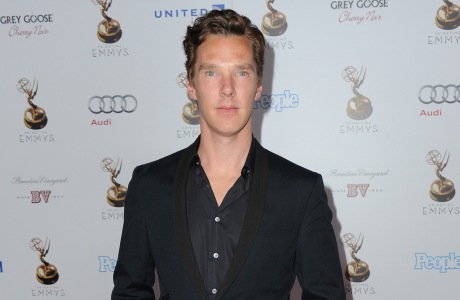 The trouble with Benedict Cumberbatch is that his tone of voice is that of a impatient, imperious rotten swine, and yet the things he says are invariably lovely. This creates a conflict of affection in which fans are both slightly fearful of his mighty wrath – you've seen those Star Trek Into Darkness trailers, right? – and entirely won over by the warmth, humor and thoughtfulness of the things he has to say.
In short, reading a Benedict Cumberbatch interview can be a little like developing Stockholm syndrome. And the one that appeared in the Mail's Event magazine over the weekend will not help anyone trying to break free of his adorably evil clutches.
For example, here are his thoughts on raising a family:
"I was happy as an only child, but I've always wanted to be part of a bigger family.
"I would love to have children. Everyone wants to know when I'm going to settle down and who is going to be Mrs Cumberbatch. I can't wait to do an interview like this and just talk about my child."
"My stepsister – my mother's daughter from her first marriage – had a kid when I was about 11. I thought, 'Wow, this is incredible, they come in much smaller sizes!' I was only used to my band of brothers at prep school.
"I was always the one at parties who looked after the younger children. I really enjoyed it."
And how much his mum enjoys Sherlock:
"She sees a lot of me in Sherlock, which both makes her laugh and is slightly embarrassing. I suppose it's my rushing around, my impatience.
And how he's sometimes a bit of a diva at work, but only because of his dratted memory:
'When I was younger I had to spend double the amount of time learning French vocabulary. I struggle to learn by rote. I've had meltdowns on set. Which is embarrassing and shameful.'
And here he talks about the hierarchy of fame:
"I went to LA properly for the first time for the Oscars last year and ended up at Madonna's party. I met David Beckham at the bar and said, 'Hello David, nice to meet you, I play Sherlock on television back home.'"
"He said, 'Oh yeah, nice, I think I've seen it.' People now look at me with the look I probably gave David Beckham at the bar. This is all new and bizarre for me, but I'm adjusting to it."
And then, to really finish you off, there's this poetic vision of his return to Blighty, after being away with work:
"I flew back from Tokyo, via Los Angeles, yesterday and I got a huge kick from flying underneath the clouds and seeing my England. I felt so happy. It was the most beautiful wintery landscape, dusted with frost.
"Within the same field of vision as a giant retail park was a Norman church and some huge pile surrounded by woods and a driveway. The mundane and the majestic, the old with the new.
"I'm lucky; I can live here and work in the States. I can just pack a bag and go."
Note: Do not attempt to get into Benedict's bag. He will not thank you.
Read More
Filed Under: