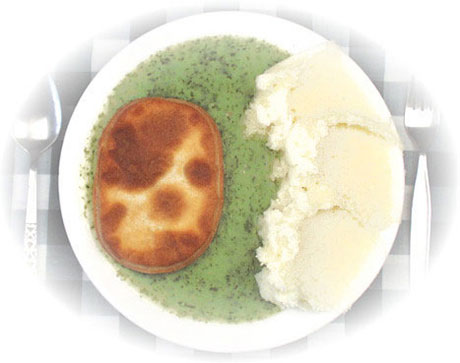 Today, as you may already know, is St George's Day. And this is a special day for all red-blooded Englishmen, because St George was a Greek man from Palestine, who became a Roman soldier in the third century, hundreds of years before England had even been invented. He's also the patron saint of, well, quite a few nations. Georgia, for one. And Egypt. And Bulgaria, Aragon, Catalonia, Romania, Ethiopia, Israel, Lithuania, Portugal, Serbia, Ukraine, India, Greece and Russia. And the Scouting movement.
Oh and England. He's the patron saint of England. That's the important bit!
So, because it's a special day, we should do something special to celebrate. How about, given that it's unlikely that there will be the kind of drinking and parading that accompanies certain other patron saint's days I could mention,  we have a traditional cockney knees-up round the old joanna?
What's the matter? You look confused.
Oh right! Right! So, a knees-up is the kind of party in which there is dancing. Dancing being the kind of thing that requires the lifting of knees, especially if raucously performed. And the old joanna is cockney rhyming slang for a piano. You have to say it in a kind of Dick Van Dyke accent to make the two words rhyme, and if you do, you're already getting well into the spirit of this most special of days, my old cocksparrah.
Cockney knees-ups, when they were a thing, would involve working class Londoners gathering in a pub, and having a sing-song to some tunes they'll have heard in the music halls. The music halls were the pre-television popular entertainment of the age, a bawdy vaudeville show, featuring comics and magicians and whatnot, that tended to heavily feature two sorts of songs.
One was the slightly racey number, often laced with ripe innuendo while pretending to have very proper Edwardian manners – Marie Lloyd's  "She Sits Among the Cabbages and Peas" being a great example. The other would be the sentimental sing-alongs about identity and geography: "Maybe It's Because I'm a Londoner" and "The Lambeth Walk."
This sort of a thing:
So, we have our music, we have our theme, what shall we eat?
Well if you're feeling adventurous, you could do worse than get some seafood. Cockles and whelks, to be precise. You serve them with vinegar and pick them out of their shells with a pin.
Or, if that seems unnecessarily gross, there's always pie (purists will insist on eel, but you can go for beef or mutton if you like) and mash. Make sure there's plenty of liquor though, that's a sauce based on the parsley water left over from cooking the eels.
No? Not keen? Green about the gills? OK, have a packet of crisps and a happy St George's day to you!
Read More
Filed Under: