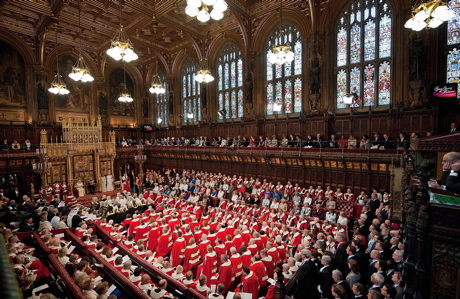 We can see the advance publicity for the next James Bond movie now: "Coming soon to a Parliament near you."
Last Tuesday night, as the House of Lords debated a key national security bill, peers of the upper house were given the option of attending a nighttime screening of Skyfall. They were also offered a viewing of The Queen, starring Helen Mirren.
The U.K. website Politics Home reported that the screening was nicknamed "The Ping Pong Cinema Club" because it was aimed at keeping the members around to cast votes while bills were passed back and forth between the House of Lords and the House of Commons like a ping pong ball.
Politics Home then proceeded to come up with the best headline ever: "The name's Pong. Ping Pong."
The Independent wrote: "It seems that Tory and Lib Dem party managers have come up with an ingenious way of making tired peers stay late for crunch votes in the House of Lords."
• 007, the film character, hasn't spent much time in New York City – he was only here once, in 1973's Live and Let Die. On the other hand, Daniel Craig, the actor who currently plays Bond, has an apartment in Manhattan's trendy Soho neighborhood and spends lots of time here.
The other night Craig experienced what most New Yorkers can only dream of: driving on Eighth Avenue in midtown with no traffic. That's because the city shut the street down so Craig could drive a new Range Rover in a promo spot for the New York Auto show.
• The quest for the director of Bond 24 apparently continues. As you'll remember, Skyfall director Sam Mendes bowed out earlier this month, but the producers of the 007 franchise are reportedly hopeful that he'll return – at some point.
"We will get him back," producer Barbara Broccoli is said to have told Getty Images Entertainment: "We haven't given up hope. Maybe not for the next, but we will get him back again."
Co-producer Michael G. Wilson added, "We are working on him."
Wilson said that he hoped that with Skyfall's recent awards in Britain "maybe he will have gotten inspired to come back." (via MTV UK)
The next Bond movie is expected to be released "within three years," MGM's chairman said recently.
• Even as Danny Boyle keeps saying he's not the right person to direct the next Bond movie, the rumors are still swirling, with speculation that the Trainspotting director has been discussing the idea with Bond producers.
Still, on the record, Boyle says Bond's not for him.
"I love watching those huge budget movies," he said in response to an audience member's question at the 92YTribeca in New York last month. "But they're really not the ones for me."
Also, he pointed out, "I already did a Bond movie," referring to the Olympic opening ceremony in which he directed Daniel Craig as 007 and the Queen as…the Queen. "We did a little Bond movie with an amazing cast and a limitless budget."
Boyle's newest movie, the art heist thriller Trance, opens here this Friday (April 5).
• Bruce Willis says he's interested in playing a James Bond villain.
"I always thought it would be more fun to play bad guys," Willis told the Express, perhaps thinking of the tremendous success Alan Rickman had as the evil Hans Gruber in the original Die Hard.
Willis has, in fact, played baddies – he played an assassin in 1997's The Jackal – but he said it didn't always work out.
"I tried it a couple of times, but it really wasn't as much fun as I thought it would be so I'll stay good unless there's a James Bond villain offer," he said. "That last movie really renewed my love for 007."
• As for actors who could play Bond himself in the future, Luther's Idris Elba addressed the speculation that he could be the next 007.
"It's just a massive rumor, people keep asking me about James Bond," he told ITN at the Prince's Trust awards in London last week. "It's a massive compliment but I think they're very much in love with Daniel Craig."
• And finally, a sad note. Trumpeter Derek Watkins, who played on the soundtrack of each and every Bond movie from the beginning, died on March 22 at age 68.
"Watkins is best remembered for his high-note 'screamers' on the James Bond soundtracks" wrote Billboard in its obituary. But the magazine also pointed out that Watkins, whom Dizzy Gillespie called "Mr. Lead," was famous for playing with everyone from the Beatles to Frank Sinatra and for his work on the scores of non-Bond movies ranging from Gladiator to Chicago, in which his trumpet solo opens the film.
Watkins played on every Bond film soundtrack from the first, 1962's Dr. No, to the most recent, 2012's Skyfall. He almost missed 1995's GoldenEye, but the film's composer, John Altman, told the Guardian that producers asked him to "re-score the central tank chase through Saint Petersburg in more traditional James Bond style for a large trumpet section."
Read More
Filed Under: