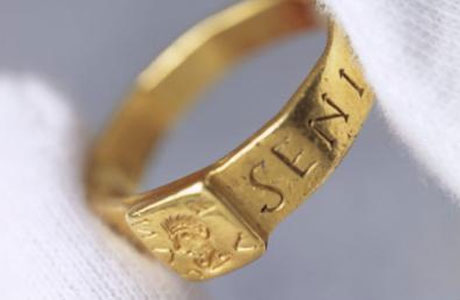 Before we start, no, this isn't the ring from the Lord of the Rings movies, or The Hobbit, come to that. That's a prop. But this might just be the ring that gave JRR Tolkein the idea of putting a magical gold ring into his tales of Middle-earth.
The ring resides where it has for centuries, at a National Trust-protected stately home – The Vyne in Hampshire – where it is on display. It's Roman in origin, has an image of Venus carved into it, and is inscribed "Senicianus live well in God" in Latin.
Which is all well and good, but the thing that most interested Tolkein – still two years from writing The Hobbit – were the rumors of a curse that had been placed on the ring. Rumors that go back two thousand years or so.
A tablet was unearthed at a Roman site in Lydney, Gloucestershire, named the Dwarf's Hill, which bore the threatening inscription, "Among those who bear the name of Senicianus to none grant health until he bring back the ring to the temple of Nodens."
The implication being that the ring had been taken, and that the curse would come down on anyone found carrying a ring with that name on it.
Dave Green, the property manager at The Vyne, told Sky News: "There's more to the story than the ring – an iron-age site with ancient mine workings known as 'the Dwarf's Hill', a curse on the thief who stole the ring, and a strong link to Tolkien himself."
But it was only recently that the penny dropped that this might be something people would want to see, as Dave explains: "I was looking for the ring to show a visitor, and I walked right past the case with it – that's when I decided we really had to make more of this amazing thing."
So it's now in a big display case with a copy of the Roman tablet and a first edition of The Hobbit.
As for the curse, well it doesn't seem to have done The Vyne any harm. So it's probably fine now.
Read More
Filed Under: